No, pension eligibility for foreigners in Canada is not changing
An online post shared several thousand times in one week claims that Liberal member of parliament Ruby Dhalla "wants a law passed allowing foreign seniors to be able to collect Canada pension after 3 years of residency." While Liberal MP Dhalla did attempt to pass such a bill, it was in 2009, and the bill did not pass. Dhalla has not been an MP since 2011.
One post from a single Facebook user attracted more than 11,000 shares in a week, focusing on the very specific issue of foreign seniors in Canada and their pension eligibility. According to the post, Liberal MP Ruby Dhalla is proposing a bill that would allow foreign seniors to collect "Canada Pension" after only three years of residency in Canada.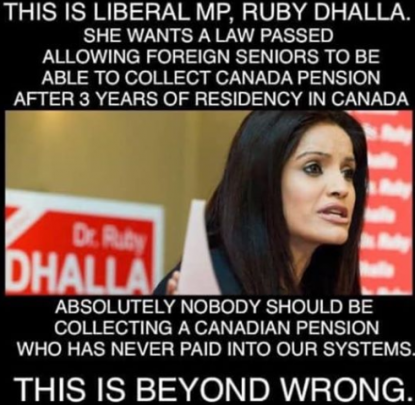 Screenshot of a Facebook post on November 26, 2018
The statement is correct, but the use of the present tense is misleading. Dhalla, a Liberal MP during Conservative Prime Minister Stephen Harper's term, did propose such a bill to the House of Commons, but in 2009. "An Act to Amend Old Age Security requirement," or Bill C-428, aimed to lower eligibility requirements for Old Age Security (OAS), Canada's largest pension plan. If it had passed, seniors over the age of 65 would only have had to reside in Canada for three years instead of ten in order to claim OAS.
Screenshot of Bill C-428 on November 26, 2018
Old news
Bill C-428 was never passed into law. It was read once in the House of Commons, but even Dhalla's own party did not support it, leaving it dead in the water.
In 2018, seniors are still required to have spent at least 10 years in Canada after the age of 18 in order to claim a monthly pension, and 20 years if they live outside of Canada.
Furthermore, Dhalla, who served as an MP from 2005 to 2011, lost to a conservative candidate in the 2011 federal election. Her former electoral district, Brampton-Springdale in Ontario, was split up in 2015 and no longer exists.

Screenshot of the House of Commons website on November 26, 2018
The Facebook user who posted the meme that went viral appears to be from Alberta, based on the former school and current work information on his profile. AFP contacted him and asked whether he was aware that the MP from several thousand kilometers away was no longer in office, but he did not answer by the time of publication.