No, Canada's government does not provide free university education to Syrian refugees
An online post asserts that Syrian refugees in Canada get free access to university education. This is misleading: a non-profit program exists to sponsor refugees from all over the world seeking to study in Canada, but the federal and provincial governments do not fund the tuition.
"Syrian refugees get free University education in Canada...while Canadian students struggle to pay for their tuition," according to a Facebook post causing outrage in Canadian Facebook groups.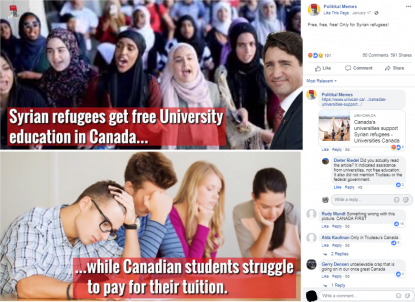 Screenshot taken on January 23, 2019 of a misleading Facebook post
In the comments, the author of the post offers a source for the assertion: a link to a 2015 press release announcing the inclusion of Syrian refugees in the Student Refugee Program, which has sponsored 1,800 refugees from around the world to study in Canada since 1978.
Shared versions of the post do not include the link, which further misleads readers, most of whom seem to believe that the Canadian government is subsidizing free higher education for all Syrian refugees. This is not the case.
Although World University Service of Canada (WUSC), the non-profit organization behind the Student Refugee Program, receives substantial donations from the federal government of Canada for various charitable activities, the Student Refugee Program is funded by partner universities via student levies, at a cost of "one to three dollars" (Canadian) per student, Cécile Robert, a WUSC employee told AFP.
Robert further explained that the sponsorship program brings student refugees directly from their country of origin to Canada, where they are privately sponsored for a year and assisted by student groups in their studies and integration. The Canadian government provides no direct funding for privately sponsored refugees.
After one year, the refugees, who receive permanent resident status upon arrival, are only eligible to apply for the same grants available to any other permanent residents or Canadian citizen.
Nancy Caron, Media Relations Advisor of Immigration, Refugees, and Citizenship Canada, told AFP that "the Government of Canada does not provide refugees with free university education."
The education ministries of six provinces confirmed to AFP that there is no special treatment of refugees in higher education financial assistance at the provincial level. The ministries of Quebec, Saskatchewan, and New Brunswick had not answered at the time of publication.
Government assistance to refugees: does not include education
The topic of financial support for refugees in Canada is regularly the subject of disinformation, which AFP Fact Check has debunked several times.
Upon arrival, refugees are granted a one-time start-up allowance to cover costs such as winter clothing, furniture, or linens. The allowance varies by province.
Once settled, financial support to refugees is granted via the Resettlement Assistance Program, which provides them with a monthly allowance for a maximum of one year. Here too, amounts vary by province depending on cost of living. Although refugees have access to public education like any other Canadian resident, assistance does not include subsidies for post-secondary education.
Furthermore, financial support from the government is only provided in the case of government-sponsored refugees. The refugees assisted by the Student Refugee Program are privately sponsored, and receive the one-time start-up allowance and the monthly allowance via their private sponsors. Immigration Canada reported admitting 33,000 refugees in 2017, 14,000 of which were privately sponsored.
Syrian refugees do not get free access to higher education in Canada beyond what non-profit organizations may provide for some of them. WUSC was not able to tell AFP how many of its current 129 sponsored refugees hail from Syria.