New 'Patriot Party' is not backed by Trump
Facebook posts claim that former president Donald Trump has formed a new political organization called the "Patriot Party," providing a Federal Election Commission (FEC) document as evidence. This is false; a fundraising committee by that name has been registered with the FEC, but Trump's team says neither he nor his campaign have ties to it.
"PRESIDENT TRUMP FORMS THE PATRIOT PARTY!... 81 days after election day in America and, PRESIDENT Donald Trump OFFICIALLY forms the PATRIOT PARTY a, new MAJOR political party," says text accompanying a video posted on January 24, 2021 on the "America Divided Podcast" Facebook page.
Screenshot of a Facebook post taken on January 27, 2021
The supposed proof, featured in the video, is a Form 1 document from the FEC on the creation of a joint fundraising committee called the "Patriot Party." It lists Donald J. Trump For President, Inc, the former president's official campaign organization, as a member.
A number of other Facebook users also linked the "Patriot Party" to Trump.
Screenshot of an FEC Form 1 taken on January 26, 2021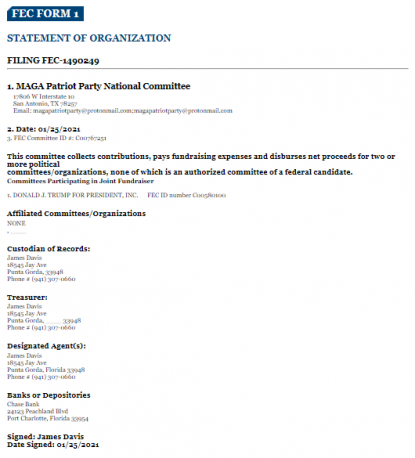 Screenshot of an FEC Form 1 taken on January 26, 2021
Similarly, several members of the media noted the FEC registration of the "MAGA Patriot Party National Committee." 
The two committees came into existence after the defeated candidate reportedly entertained the idea of creating a "Patriot Party," with the idea that it would provide leverage to keep Senate Republicans from voting to convict him at his impeachment trial, which is due to start the week of February 8, 2021. 
However, the committees are unrelated to Trump, whose team officially disavowed both in notices on the FEC's website dated January 25, 2021.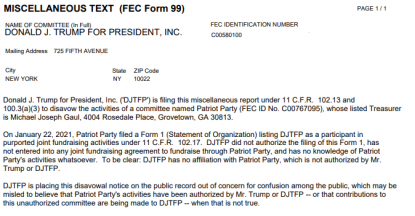 Screenshot of the Trump campaign rebuttal taken on January 26, 2021
Screenshot of the Trump campaign rebuttal taken on January 26, 2021
"DJTFP (Donald J. Trump For President) is placing this disavowal notice on the public record out of concern for confusion among the public, which may be misled to believe that Patriot Party's activities have been authorized by Mr Trump or DJTFP," one notice says.
The other uses similar language, but refers to the "MAGA Patriot Party National Committee."
Jason Miller, a Trump spokesman, told Axios by text message: "We are not supportive of this effort, have nothing to do with it and only know about it through public reporting."
The committees are, however, legal and are allowed to list the Trump campaign as a member, Myles Martin, a spokesman for the FEC, told AFP by phone.
"There's nothing that prevents someone from forming a committee," he said, noting that joint fundraising committees are a very common structure for political campaigns.
However, "if the Trump campaign were really a member of a joint fundraising committee like this, they would also need to update their statement of organization," he added.
Both committees list the same person as Custodian of Records, Treasurer, and signatory: Michael Joseph Gaul of Georgia in one case, and James Davis of Florida in the other. Neither of them answered AFP's requests for comment by the time of publication.
Motives unclear
The intentions of the committees' creators are unclear, Brendan Fischer, an expert at the Campaign Legal Center, a campaign finance watchdog, said by phone.
"It's hard to say exactly what their motives were, whether they were looking to grift some supporters, or whether they were just clueless individuals who thought they were doing something to help Trump," Fischer said.
The former case often involves preying on small-size donors, and is a "big, well-established problem," according to Fischer. Called "scam PACs" (political action committees), the money they officially raise for political causes frequently ends up in the hands of the consultants that run them.
The Patriot Party National Organizing Committee was recently created as a website, and promoted on pro-Trump Facebook pages and sites.
It had raised $2,815 on January 27 via a GoFundMe campaign led by Indiana man William Johnson.
"All funding from this campaign drive will go directly to forming a National Organizing PAC to support Patriot Party candidates and state PACs," it said.
Screenshot of the GoFundMe page on January 26, 2021
According to Fischer, "It doesn't seem like these filings by random individuals indicate that Trump is serious about forming any form of third party."
New York Times journalist Maggie Haberman reported that Trump was since convinced not to press on with a new political organisation, citing people "familiar with his thinking."