Nevada early voting rules spark claims of voter suppression
Social media posts claim that last-minute changes to the Nevada Democratic Party's rules mean ballots will be discarded if they do not list three candidates, equating it to voter suppression. This is misleading; the rule is not new and only applies to early caucus voters.
"The Nevada Democratic Party made a last min rule change to toss ballots that only name one choice," according to a tweet from February 15, 2020. "Can someone explain to me how this *isn't* voter suppression?"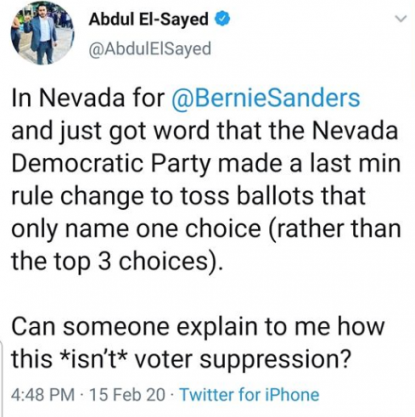 Screenshot of a Facebook post featuring a now-deleted tweet, taken on February 19, 2020
The tweet was posted by a supporter of presidential candidate Bernie Sanders. It was deleted but lives on, mainly via screenshots shared on Facebook, including by pages supporting the US senator from Vermont.
Supporters of Sanders believe that the Democratic Party cheated him out of the nomination in 2016, stacking the deck in favor of his rival Hillary Clinton, and fear that such a scenario could be repeated in 2020.
The western US state of Nevada will hold caucuses on February 22 as part of a nationwide process to select the Democratic nominee, who will take on US President Donald Trump in a November 2020 national election.
The Nevada State Democratic Party (NSDP) published rules for early voting -- including the requirement that three candidates be listed -- in October 2019.
"All early vote participants are required to make three presidential preference choices when voting early before submitting their preferences," according to the rules. 
UPDATE: This article was updated to add an additional byline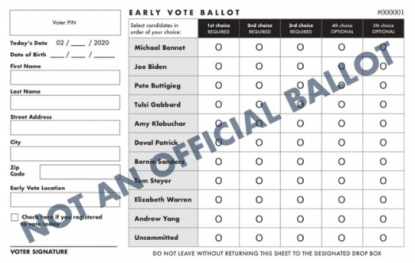 Example of an early voting ballot released by the Nevada State Democratic Party
"They have to choose three candidates and that can be the same candidate three times, it just has to be three selections," Molly Forgey, a spokeswoman for the Nevada Democrats, told AFP.
The NSDP, as well as Sanders and others sought to alert early Nevada voters to the requirement, but did not attribute it to a last-minute rule change. 
The three choices are required because of the nature of the Nevada caucuses, during which voters express their support for their preferred choice by physically standing with other backers of the candidate.
Participants whose candidate receives less than 15 percent of the votes must disband and stand with supporters of another, viable candidate.
If an early voter's first choice is not viable, their second or third choice can be used as necessary, in the same way a physically present voter would have joined a different group of supporters.