Neither Tiwa Savage nor the Kutis were among the winners at the 63rd Grammy Awards
Social media posts in Nigeria claim that this year's Grammy Awards winners included leading Nigerian female artist Tiwa Savage and father-and-son-duo Femi and Made Kuti, descendants of late Afrobeat legend Fela Kuti. This is false; while all three were up for nomination in the Album of The Year category, based on a collaboration with British rock band Coldplay, the award went to American singer-songwriter Taylor Swift.
"Congrats To a Queen," reads a Facebook post by popular Nigerian comedian AY, shared more than 100 times. The post includes a screenshot of a tweet by a Twitter account called Naija congratulating "Tiwa Savage on winning Grammy award tonight (sic)".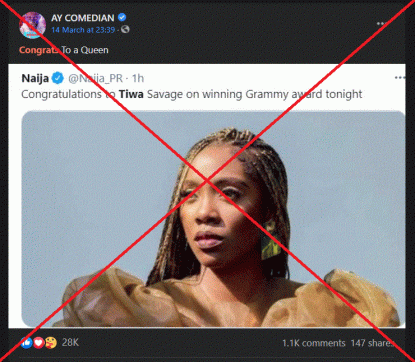 Screenshot taken on March 16, 2021, showing the comedian AY's false Facebook post
Another Facebook post further claimed that "Tiwa Savage, Femi Kuti and Made Kuti also won a Grammys tonight for their collaboration on Coldplay's album" after the British band was nominated in the Album of The Year category. 
Similar claims have been shared here, here and here. 
Burna Boy, Wizkid win Grammys
The 63rd Annual Grammy Awards ceremony hosted by the Recording Academy was held on March 14, 2021. The event was both onsite at the Los Angeles Convention Center in Los Angeles and online across the world due to COVID-19 restrictions. The awards recognised the best recordings, compositions and artists of last year--running from September 1, 2019 to August 31, 2020. 
Two Nigerian artists – Wizkid and Burna Boy – each won a Grammy: Ayo Balogun, popularly known as Wizkid, for Best Music Video for his role in Beyonce's Brown Skin Girl and Damini Ogulu (Burna Boy) for Best Global Music Album for Twice as Tall.
Savage and the Kutis had worked with Coldplay on the album Everyday Life, which was nominated for Album of The Year. Savage provided backing vocals for the track Èkó, while the Kutis joined in on Arabesque as instrumentalists. 
Femi Kuti is the son of Afrobeat pioneer Fela Kuti who died in 1997. Femi and his son Made have been carrying on Fela's musical legacy.
Timeline for the Grammy misinformation
Before Burna Boy and Wizkid's were announced as winners, Nigerians home and abroad were anticipating their victories on social media. Media houses in and outside the country were writing about Burna Boy's chances, but no mention of Savage. 
Using Tweetdeck, AFP Fact Check traced the first tweets from the people driving the conversation. About 40 minutes before the start of the event, a Twitter user in Nigeria asked why no one was talking about Savage's nomination. This tweet was shared more than 400 times. 
About 21 minutes into the ceremony, Wizkid's win was announced, alongside Beyoncé and Blue Ivy. At about 9:21pm WAT on Sunday, Burna Boy picked up his award. A few minutes later, the head of content at a Nigeria streaming website NotJustOK tweeted a win for Savage.
Screenshot taken on March 15, 2021, showing Ovie's tweet
He would later correct the error with an update an hour later, but by then much of social media already believed that Savage was a winner. Within that hour, multiple misleading tweets had already been sent out at 9:57pm, 10:13pm, 10:22pm, and 10:27pm. The correction came in at 10:36pm.
Coldplay eventually lost out to Swift's album Folklore, ending any hope that Savage and the Kutis could add their names to Nigeria's two winners on the night. 
Who is eligible for a Grammy?
Had Coldplay won, there is no guarantee that Savage and the Kutis would have shared the award. We checked the Grammy's website and found awards go to  "Artist(s) and to Featured Artist(s), Songwriter(s) of new material, Producer(s), Recording Engineer(s), Mixer(s) and Mastering Engineer(s) credited with at least 33% playing time of the album, if other than Artist."
Everyday Life has 16 tracks which make up a 52-minute playing time, according to Apple Music. Èkó runs for two minutes and 37 seconds, while Arabesque lasts for five minutes and 40 seconds. Thirty-three percent of the album is a little over 17 minutes. Hence, neither Savage nor the Kutis had up to 33% playing time on the album. 
CORRECTION 18/03/2021: The article has been corrected to say Femi and Made Kuti are father and son, not brothers as originally stated.