Misleading claim circulates about closures and layoffs at high street shops during coronavirus pandemic
Social media posts shared thousands of times since at least July 2020 claim that several high street shops have closed their stores, laid off staff or discontinued production due to the coronavirus pandemic. The claim is misleading; representatives for the high street shops listed told AFP there were inaccuracies in the posts.
This post was published on Facebook on July 4, 2020, and has been published more than 1,100 times.
It reads in part: 
"1. Victoria's Secret declared bankruptcy.
2. Zara closed 1,200 stores.
3. La Chapelle withdraws 4391 stores.
4. Chanel was discontinued production
5.Hermes is discontinued production
6. Patek Philippe discontinued production.
7. Rolex discontinued production.
8. The world's luxury industry has ceased production.
Lesson: Luxury loses appeal in times of crisis
9. Nike has a total of $23 billion US dollars preparing for the second stage of layoffs.
10. Needless to say about air travel and tourism.
11. The founder of AirBnb said that because of this pandemic, 12 years of efforts were destroyed in 6 -8 weeks.
12. Even the Starbucks also just announced to permanently close their 400 stores."
 
It also says: "Under the weight of the new crown pandemic, many giants are facing the crisis of failure."
Screenshot of misleading Facebook post taken on August 18, 2020
As of September 1, 2020, the novel coronavirus pandemic has infected more than 25 million people and caused more than 848,000 deaths. 
The claim also appeared in Facebook here, where it has been shared more than 8,200 times.
It has also been shared in various languages, including Malaysian, Turkish, Thai and Portuguese, on Facebook and other social media platforms, such as Instagram and Twitter. 
The claim, however, is misleading.
Victoria's Secret claim: Misleading
The post states that retailer Victoria's Secret has filed for bankruptcy.
In response to the misleading posts, Stuart Burgdoerfer,  interim CEO of Victoria's Secret, said it had only initiated a bankruptcy process in relation to its UK branches. 
"We are addressing the losses of our 25 stores in the United Kingdom by appointing Deloitte to work with Victoria's Secret in administration," he told AFP.
Forbes magazine reported here in May 2020 that the American brand announced the closures of 250 stores in the United States and Canada, due to an abrupt decline in sales caused by the novel coronavirus pandemic. 
On July 28, 2020, L Brands, the group that owns Victoria's Secret, also reported that it will cut about 15 percent of its jobs.
  Zara claim: Misleading
On June 10, 2020, the Spanish group Inditex – owner of Zara, Pull&Bear, Massimo Dutti and four other brands – reported on its website that within two years it would close between 1,000 and 1,200 "smaller-sized stores, which account for 5% to 6% of total sales and are less well positioned to offer the new customer experiences". 
It added that these are "older stores belonging to brands other than Zara". 
Although this statement from the Inditex group was published during the pandemic, in its plans for 2022, it does not mention that the decision was made as a result of the novel coronavirus. It also does not indicate which stores would be closed or specify which brands in the group would be affected.
La Chapelle claim: Misleading
Xinjiang LaChapelle Fashion is a Shanghai-based clothing company. According to its 2019 annual report here, the company reduced its number of domestic retail outlets from 9,269 to 4,878 between late 2018 and December 2019. This marked a closure of 4,391 stores.  
However, the closures in 2019 had occurred before the coronavirus pandemic. The first outbreak of COVID-19 was detected in the Chinese city of Wuhan on December 31, 2019.  
Chanel, Hermès, Patek Philippe and Rolex claim: Partly true
These four brands stopped their production as a result of the novel coronavirus pandemic.
French fashion house Chanel also decided to progressively close its plants in France, Italy and Switzerland for two weeks starting from March 18, 2020. 
According to this report,  "Chanel made the decision, in accordance with the latest government guidelines, to completely close its production sites." Some distribution locations, however, maintained a minimal presence of employees, following protection measures.
French luxury group Hermès in mid-March announced  that it was "shutting its manufacturing sites until the end of the month".
In this report, Swiss luxury watchmaker Patek Philippewas reportedly "shutting production sites and its head office" starting from March 18 until March 27, 2020. The report states, however, the date "may be re-evaluated".
In an emailed statement to AFP, the company announced on April 27, 2020, that "Patek Philippe will reopen its production facilities and all other departments as of Monday 27th April 2020, with reduced daily working hours as well as staff presence on site, following the Swiss Government recommendations. All employees already working remotely will continue until further notice."  
For Swiss luxury watchmaker Rolex, this report cites an internal letter to employees from CEO Jean-Frederic Dufour that "Rolex will close production facilities in Geneva, Bienne, and Crissier for 10 days effective Tuesday, March 17, 2020." 
The brand's communications team told AFP in an email that only factories in Switzerland were closed and that, contrary to the initial forecast, activities resumed on May 4, 2020, more than one month after the closure.
Nike claim: Misleading
Sports brand Nike announced senior leadership changes in a statement on July 22, 2020, which also mentioned "net loss of jobs across the company, resulting in pre-tax one-time employee termination costs of approximately $200 million to $250 million." However, in this official statement, the company did not specify that these layoffs were related to the novel coronavirus, but rather indicates that they are part of a plan called "Consumer Direct Acceleration", which seeks to "unlock long-term growth and profitability".
In response to the misleading posts, a Nike spokesperson told AFP: "We are building a more agile company and transforming Nike faster to define the market of the future. While we do not provide numbers, the changes are expected to lead to a net loss of jobs, which is always difficult."
Other media reports, such as here and here,reported that chief executive John Donahoe announced these layoffs via email to his employees, explaining that they were not related to the novel coronavirus.
Contrary to misleading posts, no announcements related to a previous layoff were found in previous Nike press releases.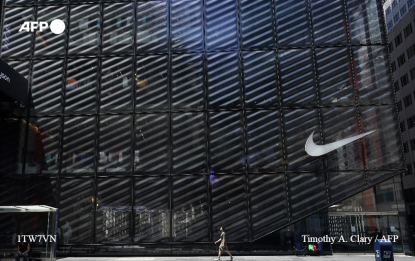 A Nike store on Fifth Avenue, New York, as the city entered phase two of reopening on June 22, 2020
According to its latest financial update, Nike reported a loss of $790 million in the quarter ending May 31, 2020, "significantly impacted by physical store closures across North America, EMEA and APLA, where 90 percent of NIKE-owned stores were closed for roughly eight weeks in the quarter." 
Airbnb claim: True
Brian Chesky, CEO and founder of Airbnb, said in an interview with CNBC on June 22, 2020: "We spent 12 years building Airbnb's business and lost almost all of it in the matter of 4-6 weeks."
"Travel as we knew it is over. It doesn't mean travel is over, just the travel we knew is over, and it's never coming back," he added.
"We spent 12 years building Airbnb's business and lost almost all of it in the matter of 4-6 weeks," says Airbnb CEO Brian Chesky. "Travel as we knew it is over. It doesn't mean travel is over, just the travel we knew is over, and it's never coming back."@cnbc @dee_bosa pic.twitter.com/BLjb9HH2Pe

— Squawk Alley (@SquawkAlley) June 22, 2020
AFP reported here that Airbnb has fired one-fifth of its workforce.
Starbucks claim: Partly true
On the Starbucks investors' relations website, the company published a report in June 2020, in which it announced that it would close up to 400 company-operated stores over the next 18 months in the US.
It advised that as part of its business recovery strategy, it has had to "re-examine [its] US store footprint" by "[evolving its] retail presence over time through targeted store renovations, relocations and new stores, a process that has been underway for two years". 
The company also said that new store openings have resumed after the initial onset of COVID-19 disrupted the process.