Migrants did discard food in a Greek camp. But conditions were 'abhorrent', the UN reported
Several far-right websites have peddled a video of migrants wasting food in a Greek refugee camp. The event did occur, in the Moria camp, on the Greek island of Lesbos. However, it is an exceptional occurrence that took place in an overcrowded camp whose conditions the UN High Commissioner for Refugees recently condemned as "abhorrent."
The first iteration of this video found by AFP was published on August 4, 2018, on the YouTube page belonging to "Ahmed Al Kilani." It was seen 768 times at the time of publication. 
The video is titled, "The hardships of refugees in Greece," and bears a caption in Arabic: "The obligation to eat bad food despite all requests and demonstrations to ask for the improvement of the general situation and of the food in particular. This place is inside the Moria camp on the island of Lesbos."
In a confused situation, a man picks up a tray of food from a pile on the ground, showing its content to the camera. "Bring a box! Bring a box! Look, they say it's chicken, but even an animal wouldn't eat this," says a man in an Arabic dialect identified by the author of the video as from Eastern Syria or Iraq. He then throws the tray back on the pile of food. "This is the reality of the Moria camp," he concludes. Behind him, a man that seems to be a member of the Greek authorities is standing, while in the background, several people are leaning in front and behind a fence.
The video was then published in Greek on August 6, 2018 by a Twitter account which regularly shares anti-migrant content. The post by @stavroforos_ (meaning crusader in Greek) has been watched 3,000 times since.
Τα καλοζωισμένα πουλέν των επαγγελματιών αλληλέγγυων στη Μόρια,πετάνε το φαγητό που τους προσφέρει ο Έλληνας φορολογούμενος διαμαρτυρόμενοι.
Μέσω αναθέσεων του YΠ.ΕΘ.Α,οι εταιρίες που ανέλαβαν τη σίτιση των λαθρο σε Λέσβο,Χίο,Σάμο,Κω &Λέρο έχουν εισπράξει απ αρχές του '16 27εκ pic.twitter.com/OL2KOQN5tz

— Σταυροφόρος (@stavroforos_) August 6, 2018
The contrast in tone of the caption is stark: "Those sheltered and well-fed by financial supports (ie: NGOs) in Moria protest by wasting food supplied by Greek taxpayers. Companies that have taken the responsibility of feeding illegals on Lesbos, Chios, Samos, Kos et Leros (ie: Greek islands) via contracts with the Defence ministry made a 27 million (euros) profit since early 2016."
On September 4, the video was shared again by "Giannis Papoukas", a Greek-speaking Facebook user who decried the food wasted "while our Greek compatriots don't even have a piece a bread." This version of the video attracted more than 100,000 views on the page.
The video was then cited by the Greek site NewsOne in mid-September with the title: "They throw away food offered by Greece as a form of protest."
"Voice of Europe", a known far-right website in English, shared the video once again, subtitled in English, on its YouTube channel (75,000 views) and on its website, with the title "Refugees on Greek island throw away their meals as they are dissatisfied with the food."
The next day, on September 30, Russian state media Sputnik published the footage in a French article titled, "In this Greek camp, refugees discard food that is offered to them." The article explains that the images "sparked outrage on the Web" because "many inhabitants of this European country in crisis are insulted by the fact that their hospitality is disrespected." Sputnik supports its claims with two Tweets, one from an account based in California, and another seemingly from the UK, due to its apparent interest in news from that country.
A real video, in an overcrowded camp
AFP was able to confirm with various sources that the scene in the footage did take place in the Moria camp, on the Greek island of Lesbos.
We have contacted refugees who lived in the Moria camp in recent months. None was able to put AFP in contact with the original person who filmed the video, but they all confirm that the scene took place in Moria.
According to these sources, the poor quality of the food, as well as the frequently long waits for food in the Moria camp, both explain this isolated occurrence.
Refugees and migrants on a field outside Moria, on November 12, 2015 (AFP / Aris Messinis)
The rough conditions in this camp, where 8,000 refugees and migrants share space meant for 3,000, have made AFP headlines several times, as in this story published on September 27, 2018.
Contacted via Facebook, Malik* (*names were changed), a Syrian refugee who said he lives on the camp, confirmed that the video is "correct" and reflects the "reality in the Moria camp."
Assaf Hanan, who agreed to give her real name, explained that "food is very bad and we have to wait for hours in line for food. It takes three hours to get it."
She shared several photos with AFP. "My husband took them to show Europe our suffering if we manage to leave Greece one day."
A photo allegedly taken inside the Moria camp, on the Greek island of Lesbos, in 2018 (Hanan Assaf)
This first scene perfectly matches another video shot by Ahmed Al Kilani, the author of the video in which food is thrown out. Hanan explained that these scenes took place "a few months ago."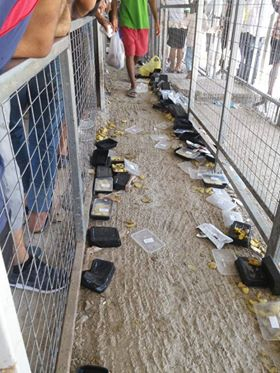 A photo allegedly taken inside the Moria camp, on the Greek island of Lesbos, in 2018 (Hanan Assaf)
AFP correspondent in Lesbos Anthi Pazianou has made the trip to the camp several times. According to her, recent complaints have focused on the length of lines for food rather than the quality of the food itself.
Sylvi, a 24-year old refugee from Congo who lives in the portion of the camp reserved for women, told Pazianou that she hopes to be transferred to continental Greece: "The food is bad, and we can't wait so many hours in line, so we cook ourselves."
Mathan Bati, 27, who is from Senegal and is settled in the quarter reserved for people from Africa, also explained to Pazianou that "you have to wait in line for hours before they start distributing food. Rice is sometimes hard as rock, and the chicken isn't cooked, it still has traces of blood."
AFP bureau director in Greece Odile Duperry visited the informal camp outside of Moria on September 25. "Several migrants complained to me about very poor food, and about hours and hours of waiting," she said.
Complaints were not only filed by those living in the camp, but also by many international organizations.
Irini Gaitanou, campaign manager for Amnesty International's Greek chapter, told AFP at the Moria camp that "over 8,500 refugees living in the camp have to wait in line for everything: food, showers, doctors. Several asylum seekers told us that they sometimes have to wait for 12 hours in order to get food."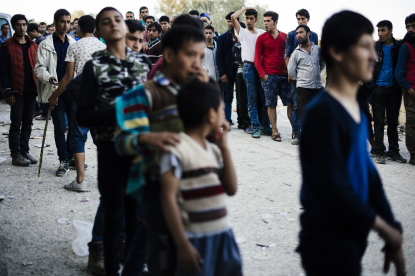 Migrants and refugees wait in line during a food distribution in Moria camp, on October 19, 2015 (AFP / Dimitar Dilkoff)
According to Boris Cheshirkov, United Nations High Commissioner for Refugees (UNHCR) spokesperson in Greece, "some people might have thrown away their food in order to protest lengthy procedures for asylum and camp conditions."
"Meals are very simple, but the authorities follow nutrition standards and refugees receive three meals per day. However, they have to wait in line for over two hours, which creates tensions. Fights often break out when meals are being distributed. Especially since women with young children or people that have difficulties walking have to wait in the same place," Cheshirkov explained.
Chesihirkov spoke to AFP on November 6, the day on which a UNHCR press release condemned "abhorrent" conditions in the reception and identification centers on the Greek islands of Samos and Lesbos, where Moria is located.
By contrast, Moria camp manager Giannis Balapakakis told AFP that there was "no problem with the quality of the food at Moria." Balapakakis said that he tastes the food at least twice a week, and further indicated that the army is the one in charge of food, not the camp administration. "We can't objectively satisfy 58 nationalities," he added.
In the same press release, UNHCR mentioned another camp, Vathy, on Samos, in which "the situation has been worsening": it was designed to host 650 people, but the camp and its surroundings are currently occupied by 4,000 people.
Beyond the lack of electricity and running water, these zones are home to snakes and rats attracted to uncollected litter, the UNHCR press release added.
In the camp, "many of the toilets and showers are broken, resulting in open sewage close to people's tents." The most vulnerable refugees include over 200 unaccompanied minors, about 60 pregnant women, handicapped people and sexual assault survivors. They have been left to their own device for months in these deplorable conditions, since all alternate shelters are at capacity.