No, the dengue vaccine Dengvaxia is not on sale in India
A Facebook post claims that the dengue vaccine Dengvaxia is being sold in India far more cheaply than when it was on sale in the Philippines. However Dengvaxia's maker, Sanofi, has told AFP it is not selling the vaccine in India.
The post claims the price of Dengvaxia is 12 rupees (about 16 US cents) a piece in India, more than 100 times cheaper than its price in the Philippines before it was pulled from the market there.

Dengvaxia's price is a sensitive issue in the Philippines because a world-first, government-led mass inoculation campaign ended in controversy in late 2017 after questions arose over the vaccine's safety.
Here is a screenshot of the post: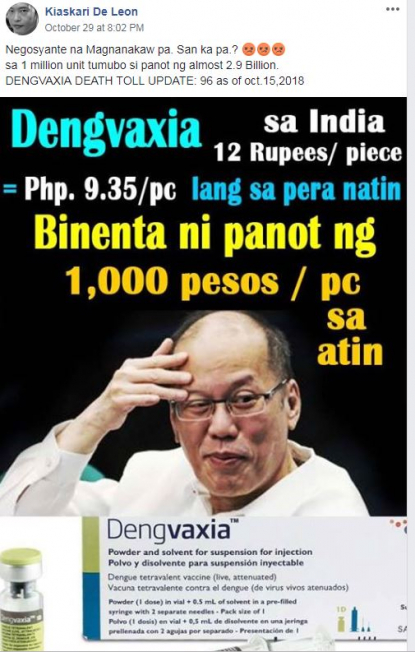 (Screenshot of the Facebook post which claims that Dengvaxia is sold at a cheaper price in India than in the Philippines )
When translated into English the post says: "Dengvaxia in India only costs 12 Rupees/piece. 12 rupees = 9 pesos and 35 cents in our money.It was sold by bald guy for P1,000 per piece here".
The "bald guy" refers to former president Benigno Aquino III, whose picture appears in the Facebook post and led the Philippines from 2010 to the middle of 2016.
His administration paid 1,000 pesos ($18) per dose of Dengvaxia in 2016, according to a Senate report into the issue. The price can be viewed on page 48 of the report.
Below is a snapshot of the portion of the Senate report which discussed how much the Aquino government paid for Dengvaxia per dose:
(Snapshot of Senate report )
The post offered no evidence to back its claim that Dengvaxia was being sold for 12 rupees in India.
The vaccine's maker, Sanofi, also told AFP the claims about it being sold in India were incorrect.
"Dengvaxia is not approved in India so the information you've been given is inaccurate", said Jack Cox, a Sanofi spokesman, in an e-mail to AFP.
Under Aquino's administration, more than 800,000 children received Dengvaxia in what was the world's first public dengue immunisation programme.
Sanofi and the Aquino administration hailed it as a major step towards combating dengue, which kills hundreds in the Philippines every year, mostly children.
The programme ended after Sanofi said in 2017 the vaccine could lead to more severe symptoms in people who had not previously been infected with dengue.
Sanofi insisted the vaccine was still safe but the administration of Rodrigo Duterte, Aquino's successor and political rival, suspended the Dengvaxia programme.
Here is an AFP report from December 2017 on the suspension.
Supporters of Duterte have sought to use the issue to discredit Aquino.
The false post has been shared more than 7,000 times by Facebook pages and groups that support Duterte and his political allies, according to data from social media monitoring platform CrowdTangle.
(Snapshot of Crowdtangle data)