LeBron James' shirt did not say 'WE DIE, y'all silent' in 2014 photo
A photo shared thousands of times in Facebook posts appears to show US basketball star LeBron James wearing a shirt that reads "WE DIE, y'all silent" in a condemnation of the public response to police violence against Black people. But a spokeswoman for James says it is not authentic, a reverse image search shows the shirt actually said "I CAN'T BREATHE," and photo analysis indicates the image was altered.
"WE MARCH, y'all mad. WE SIT DOWN, y'all mad. WE SPEAK UP, y'all mad. WE DIE, y'all silent," says text on a black T-shirt worn by the all-star in a photo included in an April 13, 2021 Facebook post.
Screenshot of a Facebook post taken on April 16, 2021
More examples of the claim appeared on Facebook here and here. A now-removed post containing the photo was shared more than 16,000 times.
The claim comes as Minnesota reels from another police killing of a Black man. 
Daunte Wright was killed on April 11 during a traffic stop by a police officer who is said to have mistaken her gun for a Taser. The fatal shooting came during the trial of a former Minneapolis police officer charged with murdering George Floyd in 2020.
Floyd's death sparked nationwide protests and led to an ongoing reckoning on racism and police violence in America.
A spokeswoman for James told AFP in an email that the photo shared on social media is not legitimate.
AFP Fact Check conducted a Google reverse image search for the photo in the Facebook posts, and found a Buzzfeed article attributing a similar picture to Getty Images, in which the shirt instead reads: "I CAN'T BREATHE."
Searching Getty Images for "Lebron James I can't breathe" yielded this image by Rich Kane, captioned: "December 8, 2014: Cleveland Cavaliers forward LeBron James (23) wears a t-shirt to honor Eric Garner during warmups before a NBA game between the Cleveland Cavaliers and the Brooklyn Nets at Barclays Center in Brooklyn, NY."
A screenshot of a photo by Rich Kane on the Getty Images website
James now plays for the Los Angeles Lakers and is widely considered one of the best players in history. He has long been an outspoken advocate for racial justice.
Garner died after New York police placed him in an illegal chokehold while arresting him on suspicion of selling loose cigarettes.
"I Can't Breathe" is a phrase Garner used 11 times during the incident, and which was also said by Floyd.
An analysis of the image in the posts using digital verification tool InVID-WeVerify detected JPEG blocking artifact inconsistencies, which are traces left when tampering with JPEG images by splicing, copy-moving or inpainting, the analysis description says.
The image map shows contrasting spots concentrated on James' T-shirt, indicating that that area of the photo was likely altered.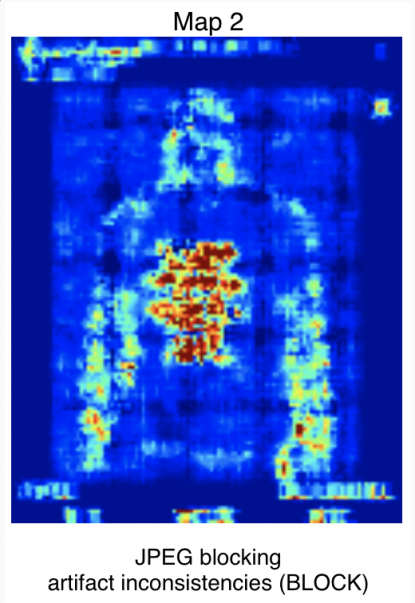 A screenshot of InVID-WeVerify's JPEG blocking analysis of the social media photo, taken on April 16, 2021
AFP Fact Check has debunked other inaccurate claims about Black men killed by police here, here and here.