Indian villagers are not 'rebelling against Covid-19 testing' in social media video
As a surge in Covid-19 infections overwhelmed Indian hospitals, a video emerged online in posts that claimed it shows villagers attacking health workers who tried to test them for the virus. The claim is false: the video shows a group of villagers attacking a police van after a detainee's death in eastern India in January 2021.
The video was shared here on Facebook on April 30, 2021.
"Indian Government to Villagers: 'It's time for your COVID-PCR Test…' Indian Villagers to Government:" the caption reads.
The footage shows a crowd hitting a vehicle with sticks.
A screenshot of the misleading Instagram post as of May 6, 2021.
The posts circulated online as India saw a record jump in Covid-19 deaths and cases, overwhelming hospitals which have suffered fatal shortages of beds, drugs and oxygen.
The same video was shared alongside a similar claim on Facebook here, Instagram here, as well as on Twitter here.
The claim is false.
A Google keyword search found media reports from January 2021 about a dispute between locals and the police in Haturai, a village in the Bhadrak district of eastern Indian state Odisha, after the death of a detainee.
Local media reports here and here feature a photo of a white van that corresponds with the van seen in the misleading posts. The small huts that line the road in the image also correspond with the location seen in the Facebook video.
"Angry over alleged suicide of a youth, residents of a village in Bhadrak district set a police van on fire on Wednesday," Odisha TV reported.
"According to sources, the youth was interrogated by police in connection with a case recently. The family of the youth alleged he was assaulted by police during the questioning."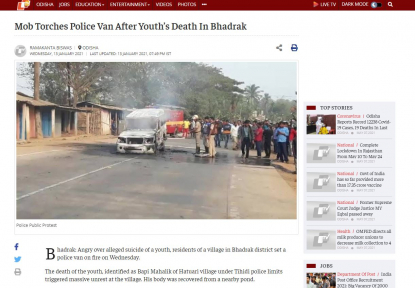 A screenshot of the Odisha TV website as of May 7, 2021.
A search of Facebook videos posted in January 2021 found videos by local news media Pratinidhi Odia here and Times Odia here, which are similar to the video featured in the misleading post.
Below is a comparison of the video in the misleading post (L) and the Pratinidhi Odia Facebook video (R):
A police official told The Quint, an Indian news website, that the video was filmed in the Bhadrak district in Odisha: "The incident took place under Tihidi police [jurisdiction] in the month of January. Some people had then started attacking the local police."
BOOM Live, an Indian fact-checking website, also debunked the same video after it circulated with a different false claim about post-poll violence in West Bengal.