Images show US arms, not guns made by separatist group in Nigeria
Images of guns have been shared hundreds of times on Facebook alongside claims that they were made by the newly set-up military arm of a Nigerian separatist group. But this is false: AFP Fact Check found that the guns in question were manufactured in the US. Reverse image searches also showed the pictures had circulated online years before the launch of the rebels' militia in December 2020.
The claim alleges that weapons were produced by the so-called Eastern Security Network (ESN), a militia of Nigeria's Indigenous Peoples of Biafra (IPOB). The movement, headed by Nnamdi Kanu, is leading calls for the secession of southeastern Nigeria from the rest of the country. 
One of the posts, shared nearly 400 times and archived here, claims that the "engineering department of Eastern Security Network" built the rifle seen in the images.
Screenshot taken on January 11, 2020 showing the false post
The post also alleges that Kanu has vowed to "never import any weapon", suggesting the weapons were made locally. 
Not made in Nigeria
Multiple reverse image searches showed that these guns have been on the internet as early as 2015 -- years before Kanu's military arm was founded.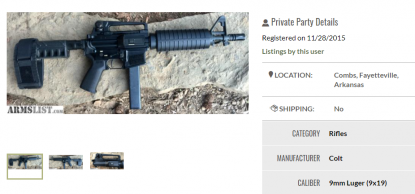 Screenshot taken on January 11, 2021, showing the original picture
The earliest version of the first picture found by AFP Fact Check was from November 2015, when the rifle was listed for sale on a firearm marketplace in the US. 
The other two images were uploaded to Wikipedia as early as February 2008. According to the earliest upload, the image shows a Colt 9mm SMG 635. 
AFP Fact Check ran multiple image searches, with all linking the guns to the same manufacturer. The guns in the image show 9MM submachine guns, which we traced to the website of US arms manufacturer Colt Defense LLC., based in Hartford, Connecticut.
Nigeria has been battling an increasingly challenging security situation over the past decade.  Boko Haram militants have been carrying out kidnappings of children, soldiers and aid workers as part of its insurgency in the northeast, while herders and farmers have continuously clashed in central Nigeria.
In light of the escalating violence, several southwestern states created a regional security outfit in January 2020. In response, Kanu set up his own militia network in the region at the end of the year. 
Biafra's secession push
A unilateral declaration of an independent Republic of Biafra in 1967 led to a brutal civil war that left more than one million Nigerians dead in nearly three years of fighting.
Forced to surrender and chastened by war, dreams of a separate state for the ethnic Igbo group -- the third-largest in the country -- waned.
In recent years, Kanu has become a figurehead for the revived pro-Biafra movement.