This image shows a Nigerian actor who died in 2017 -- not the pastor who 'went to China to destroy coronavirus'
Thousands of Facebook users have shared a picture of a man hooked up to a dialysis machine alongside claims that he is a Nigerian pastor who travelled to China to "destroy coronavirus" and was hospitalised. This is false; the man in the picture is a Nigerian actor who died due to renal failure in 2017.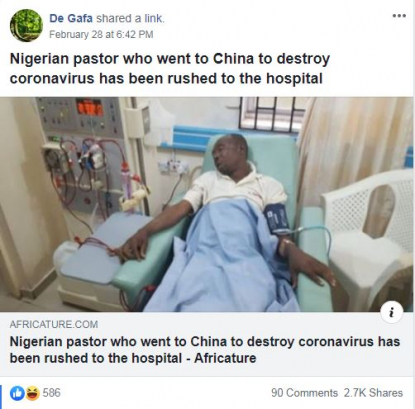 Screenshot taken on March 3, 2020, showing the misleading Facebook post
Background
In February, Nigerian pastor David Kingleo Elijah told his congregation he was going to China to "destroy coronavirus".
"I am going to China to go and deal with coronavirus, I am going prophetically to destroy coronavirus. Where there is a prophet, people will not die. I cannot be a prophet, I am in this world and China is dying," he said in a filmed sermon. 
This Nigerian Pastor Elija Emeka Chibuke who declared war ending Coronavirus went to China to end #CoronaVirus but before he could end the virus, the virus ended him hospitalized in China. pic.twitter.com/5Hrs7xaiAW

— Man's NOT Barry Roux  (@AdvoBarryRoux) March 2, 2020
After the video of this sermon went viral, thousands of Facebook users began to share posts alleging that the pastor has since travelled to China and has been hospitalised there. 
One such post, shared nearly 5,000 times according to social media monitoring tool CrowdTangle, and archived here, claims the pastor reportedly contracted the virus and was rushed to a hospital. 
We archived similar posts here, here, here, and here. 
The man in the picture was a Nigerian actor
Multiple reverse image searches showed that the picture shared alongside the claims has been on the internet since 2017. The man in the picture is Adeshina Adesanya, a Nollywood actor popularly known as Pastor Ajidara.
The picture was taken while he was receiving treatment, and posted by his colleague in May 2017.
Adesanya died in 2017 after suffering kidney failure and his death was reported across major news platforms in Nigeria. We have archived some of those reports here, here and here. 
A collage showing the pastor and the actor
Did the Nigerian pastor go to China?
David Kingleo Elijah is the pastor of Glorious Mount of Possibility Church, Lagos, which is seen in the viral video. 
AFP called the pastor, who said he was in Nigeria. When asked if he had travelled to China following his viral sermon, he declined to answer.
According to the World Health Organization, "there is no vaccine and no specific antiviral medicine to prevent or treat COVID-2019. However, those affected should receive care to relieve symptoms. People with serious illness should be hospitalized. Most patients recover thanks to supportive care".