Image of Bill Gates in cuffs is doctored photo of a 2014 mobster arrest
Multiple posts shared with a picture of a hand-cuffed Bill Gates being led away by FBI agents allege the US billionaire has been arrested for biological terrorism. This is false; the image is doctored and actually shows the  2015 arrest of New York mobster Vincent Asaro. The report was first published by a satirical website but was reproduced elsewhere as real news.
The original post shared on Facebook links to an article published on an Australian website called The Betoota Advocate and shared more than 5,000 times. The undated article, which source code shows was published on May 11, 2020, claims that "Bill Gates (64) has been arrested by the FBI today on charges of biological terrorism after it was revealed he created the coronavirus". 
It adds that the arrest "is reportedly the result of a tip-off from the Melbourne conspiracy theorists who breached Victorian lockdown restrictions yesterday to spread 'the truth' about this so-called pandemic".
AFP found that The Betoota Advocate runs a satirical website. The "About" section on its Facebook page carries the tongue-in-cheek description: "Our competitors in the city label us 'satire'. They don't understand."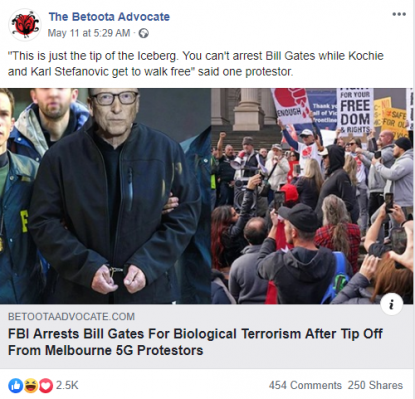 A screenshot taken on May 14, 2020, showing the false post
However, the story was republished as real news on this Nigerian website and shared over a thousand times on Facebook. Many of the commenters seem to believe the claim is true.
A screenshot taken on May 21, 2020, showing some of the comments on the false post
Similar claims have also been shared here, here, here, and here.
Picture shows New York mobster Vincent Asaro
AFP ran multiple reverse image searches to verify the picture and traced it to articles including this AFP story reporting on the arrest of New York mobster Vincent Asaro in January 2014 for his role in a 1978 heist. Meanwhile, the second image used in the same post, which shows a crowd holding banners, was taken during recent anti-lockdown protesters in Australia.
A collage comparing the original picture and the doctored one.
No public record of Bill Gates arrest
There is no public record of Gates being arrested by the FBI.
A day after the misleading article was published, Gates published a piece on his blog GatesNotes about a new surveillance program in Seattle aimed at "detecting cases of COVID-19 and helping guide public health responses". On May 18, he released a list of five books to read this summer. And on May 19, the British government released a statement saying that Prime Minister Boris Johnson spoke to both Gates and his wife via video call. 
AFP contacted the FBI for comment but has not yet received a reply.
Gates has been the target of many COVID-19 conspiracy theories, as explained in this AFP Fact Check story.