Popular Nigerian pastor falsely claims Covid-19 vaccines alter DNA
Popular Nigerian pastor Chris Oyakhilome has claimed that the Covid-19 vaccine is gene therapy that alters people's DNA. This is false; experts say the vaccine does not alter DNA. Oyakhilome is known for spreading misinformation about Covid-19 to his followers in Nigeria and across the world.
A post by a Facebook page for Oyakhilome's church, Christ Embassy, alleging that "the vaccine is a gene therapy which is capable of opening the DNA up to be editable" has been shared more than 300 times since publication on July 27, 2021. The post is based on claims already made by the pastor in one of his livestreams, which has been deleted from YouTube. The Facebook page for Christ Embassy has nearly 367,000 Facebook followers.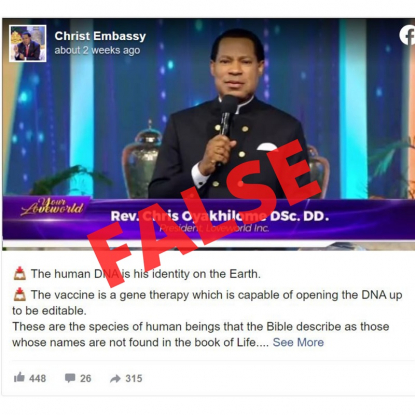 A screenshot taken on August 9, 2021, showing the false post
Similar posts have been shared here, here, and here on Facebook -- without mention of "Covid-19", only "the vaccine".
Purveyors of Covid-19 misinformation frequently avoid using "Covid-19" in social media posts to try to avoid being detected by Facebook's algorithms and flagged.
Conspiracy theory propagator
Oyakhilome leads a megachurch which lists multiple branches across five continents. In 2020, a TV channel run by the church was sanctioned in the UK for sharing "unsubstantiated claims" about Covid-19. According to the UK's broadcasting regulator Ofcom, Oyakhilome's programmes made unsubstantiated claims that "were not sufficiently put into context" and that "risked undermining viewers' trust in official health advice, with potentially serious consequences for public health".
The channel also made claims casting doubts on vaccinations and official health advice, Ofcom said in a statement here. The Nigerian authorities also countered some of the pastor's claims about lockdowns.
AFP Fact Check has previously debunked a claim by the pastor purporting that the Nigerian government had ordered a lockdown not to curb Covid-19, but to install 5G fibre optic cables (here).
Covid-19 vaccines do not alter DNA
The pastor's claim that Covid-19 vaccines alter DNA is false.
"They do not manipulate human DNA," Jeannette Dabanch Peña, infectious diseases professor at the University of Chile, told AFP Fact Check in December 2020.
"They are only designed to express certain proteins so our body can identify them and produce the necessary defences. This is what a virus does naturally, and it does not manipulate our genes."
Helen Petousis-Harris, a vaccinologist at the University of Auckland, told AFP Fact Check in March 2021 that the notion that mRNA vaccines can manipulate a patient's genome is a "biological impossibility".
The associate professor said "RNA vaccines cannot alter or in any way interact with a person's genome". She added that "our genes are contained in the nucleus of our cells, and RNA has no access to this area. There are no instructions in the vaccine that make it possible".
Explaining how the vaccine works, University of Canterbury epidemiology professor Arindam Basu told AFP Fact Check in December 2020 that mRNA vaccines enter the cell, and "the cell will use the information contained in mRNA to assemble a spike protein-like molecule, and the immune system will generate antibodies that will circulate in the bloodstream and will neutralize if and when an active infection is encountered".
The World Health Organization (WHO) said that the Covid-19 vaccines have been "rigorously assessed for safety, and clinical trials have shown that they provide a long-lasting immune response".
"mRNA vaccines are not live virus vaccines and do not interfere with human DNA," WHO said in a statement.