Old video filmed in Nigeria does not show Yoruba activist heading to court in Benin
Footage of a crowd surrounding a convoy is circulating on social media with a claim that it shows detained Nigerian separatist leader, Sunday Adeyemo, on the way to court in neighbouring Republic of Benin, where he is on trial charged with illegal migration. However, the claim is false: the clip was filmed in Nigeria and posted online before Adeyemo's arrest in Benin.
The video shows Adeyemo, popularly known as Sunday Igboho, sticking his head out the sunroof of a vehicle and waving to a crowd of supporters as he travels in a convoy. 
"Sunday Igboho on his way to Court," reads the caption of a Facebook post with nearly 600 shares. It was posted with the footage and a headline on the video that reads: "D LION OF AFRICA SUNDAY IGBOHO IS ON HIS WAY TO COURT IN COTONU (sic)".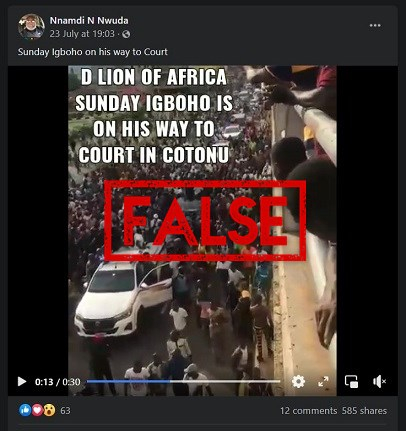 Screenshot taken on July 29, 2021, showing the false Facebook post
The video clip also circulated alongside the same claim on Twitter, as well as Instagram, where it's been viewed more than 10,000 times.
The Nigerian separatist was arrested with his wife on July 20, 2021, at the airport in Benin's commercial capital Cotonou. The advocate for independence for southwestern Yoruba people in Nigeria had been wanted at home since early July after secret police raided his home, where they recovered weapons and killed two of his allies.
Igboho has since appeared in court twice in Benin, where he is being investigated for various charges, including illegal migration and an attempt to cause civil unrest.
Old video filmed in Nigeria
However, the video is old and unrelated to Igboho's trial in Benin.
Using the InVID WeVerify tool, AFP Fact Check ran a reverse image search on keyframes of the video and found the same version of the footage without the text overlay in a YouTube video published on June 5, 2021, one day after Igboho visited Nigeria's southwestern Ekiti state for a pro-Yoruba nation rally.
Screenshot taken on July 29, 2021, showing the video on YouTube
Separatist movements
The rally was part of the activist's tour of Nigerian states in the southwest region, where the Yoruba ethnic group is predominant. It was widely covered by leading Nigerian media organisations, including The Nation, Vanguard and ThisDay.
Nigeria is targeting separatist activists in its efforts to clamp down on secessionist movements in the country. 
Before the raid on Igboho's home, Nnamdi Kanu, who is the leader of the outlawed Indigenous People of Biafra (IPOB) — a group fighting for the independence of the Igbo people in Nigeria's southeast — was arrested in an undisclosed foreign country and returned to Nigeria to face trial.
The arrests of the two men have sparked a fresh wave of disinformation in Nigeria. AFP Fact Check debunked some of the claims here, here and here.