Hoax CNN article circulates online that doctors 'encourage Covid-19 vaccine injections in penis'
Multiple Facebook posts shared hundreds of times in Myanmar claim that doctors encourage injecting Covid-19 vaccines into the penis. The posts shared a screenshot of a purported report from US broadcaster CNN. The claim is false: the image in the posts has been fabricated and does not show a genuine CNN report. No credible studies suggest that Covid-19 vaccines should be injected into the penis. In response to the misleading posts, the chairman of Myanmar's National Immunization Technical Advisory Group told AFP that the claim was false.
The photo was published here on Facebook on January 5, 2021. It has been shared more than 660 times.
Screenshot of the misleading post, taken on January 8, 2021
The post's Burmese-language caption translates to English as: "(Doctors) said injecting COVID-19 vaccine into men's genitals is the most effective and fastest way."
The picture shows a screenshot of a purported CNN report. The headline reads: "Doctors encourage covid-19 vaccine injections in penis."
A photo of a doctor also appears in the purported report alongside a diagram of how the vaccine would be administered.
The text in the purported report reads: "Doctors are discovering that, for male patients, the penis offers the fastest release of the vaccine throughout the body. 
"Based on findings from a university of California study involving 1,500 men who received the vaccine."
The image was shared alongside a similar claim here, here, here, and here.
The claim is false.
Multiple keywords search found no such news reports by CNN.
CNN has previously been targeted of hoax reports, as debunked by AFP here and here.
Keyword searches found no credible evidence about a purported study from the University of California, as cited in the misleading posts.
In response to an email from AFP, Stett Holbrook, senior communications strategist at University of California Office of the President, said: "The study is indeed bogus".
On the website for the US Centers for Disease Control and Prevention (CDC), it says the Pfizer-BioNTech and Moderna Covid-19 vaccines  should be administered on the deltoid muscle of the arm for both male and female patients. The notes were published on the CDC's website on January 3 and 4, 2021 respectively.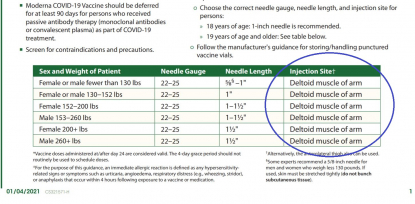 In response to the misleading posts, Professor Dr Soe Lwin Nyein, Chairman of  the National Immunization Technical Advisory Group, Myanmar, told AFP: "There is no vaccine that administers in [the penis] for any vaccine preventable diseases".
"The vaccine manufacturers carefully consider two conditions - safety and effectiveness," he said in an interview with AFP, on January 8, 2021. "They also have to consider the side-effects of the vaccine. The Covid-19 vaccines are administered in the deltoid muscle where most muscles exist. The vaccines are effective and less toxic only when they are injected in the muscle area. Intramuscular injection also provides a better immune response".