Manipulated image claims CNN reported imminent end to Ugandan leader's long rule
An image shared hundreds of times on Facebook claims to show a CNN broadcast reporting the imminent end to Uganda's  "dictatorship" under long-serving President Yoweri Museveni, in favour of a political movement led by musician-turned-politician Bobi Wine. However, AFP Fact Check found the image is a hoax.
"Uganda's dictator Yoweri Museveni's 33 year dictatorship is coming to an end, thanks to PeoplePower, a movement led by Robert Kyagulanyi (BobiWine) (sic)," reads the breaking news banner purportedly broadcast on CNN.
The image, shared in this Facebook post, includes a headshot of the network's news anchor Anderson Cooper and an inset of Wine.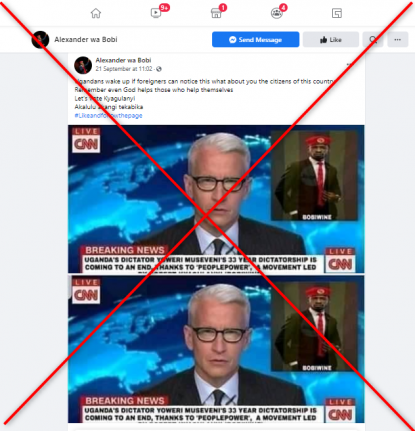 A screenshot of false Facebook post, taken on October 7, 2020
The opening line of the post reads: "Ugandans wake up if foreigners can notice this what about you the citizens of this country."
The same image was shared here on Facebook.
Uganda's President Yoweri Museveni is expected to seek a sixth term in office next year after receiving the endorsement of his National Resistance Movement (NRM) party in June. The former rebel leader is facing a challenge from pop star Bobi Wine and his People Power movement.
Meme generator site
A reverse image search on Google found that the image of Anderson set against the blue backdrop is available on meme generator site Imgflip.
A screenshot of Imgflip website sharing Anderson's template
The site features samples of other memes generated with the same template. 
A screenshot of sample memes featuring the Anderson Cooper template, taken on October 8, 2020
In the Museveni posts, the headline font and spacing differ from CNN's official style. The text also contains grammatical errors such as the conjoining of the names "Bobi Wine" and "People Power".
A search on CNN for the keywords "Yoweri Museveni" and "dictator" led to this report of Wine referring to Museveni as a dictator and asserting that the Ugandan leader must be ousted by the People Power movement.
But while there have been other news reports labelling Museveni a dictator, the CNN visual was a hoax.
AFP previously debunked another manipulated headline using Cooper's on-air image.