Headline was digitally altered, does not come from a Nigerian TV channel
Multiple social media posts in Nigeria have shared a screenshot purportedly taken from a Nigerian TV station which -- if it were real -- would be embarrassing, as its redundant headline reads "Breaking News: 40 dead bodies died as mortuary collapsed in Benin". However, this is not from Nigerian television; it was fabricated by using images from several sources, including an old photo of a damaged building in Syria. 
Popular Nigerian entertainer Tunde Ednut published the image to his 2.4 million followers on Instagram on August 24, 2020. Since then, nearly 20,000 people have liked the photo.
Screenshot taken on August 26, 2020, showing the misleading Instagram post
"How can 40 dead bodies die again?" reads Ednut's caption, which has attracted comments from notable Nigerian celebrities, including renowned broadcaster Ifedayo Olarinde, who affirmed in local parlance that the incident occurred in the country. 
Both Ednut and Olarinde were recently subjects of debunks by AFP Fact Check on Nigeria's debt to China and supposed snowfall in the country's biggest city Lagos.
The viral image shows a photo of a collapsed building with a television news graphic supposedly reporting that "40 dead bodies died as mortuary collapsed in Benin (sic)". 
Benin is a French-speaking west African nation, but it is also the name of the capital city of Nigeria's southern Edo state.
The image has circulated in several social media posts in Nigeria, including this one on Facebook that has been liked nearly 10,000 times, as well as on Twitter and Instagram. 
Not a blunder
Mistakes in television news graphics are not uncommon in Nigeria. But this purported blunder comes at a time when the state of Nigeria's media industry has become a major talking point, after the country recently sought parliament's approval for a $500 million loan aimed at revamping the sector, including rejigging state-owned television stations across the country.
Most comments on Facebook suggest users of the social network actually believed that the viral image showed a television broadcast in Nigeria, while some were sceptical or dismissive, or found it funny.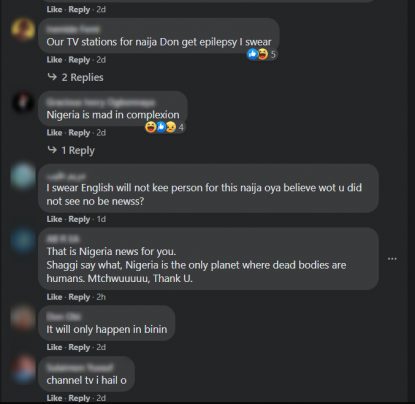 Screenshot taken on August 26, 2020, showing some of the comments on Facebook
However, this image is not a screenshot from a Nigerian television station. It has been digitally fabricated using several unrelated images. 
An old photo
A reverse image search using TinEye found a higher quality version of the image of the collapsed building in this article published by British national daily newspaper The Daily Mirror on June 11, 2013. The caption indicates that it was taken in Syria by the news agency Reuters.
The photo was also published two months earlier in The Daily Star, a newspaper that covers the Middle East, with a similar caption indicating it was taken by Reuters near Damascus, Syria on April 2, 2013.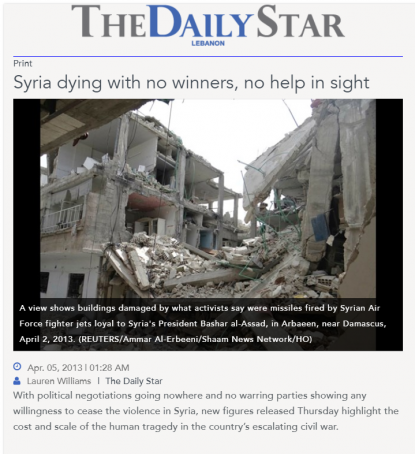 Screenshot taken on August 26, 2020, showing the Daily Star's article

Fake news graphic 
The image contains what looks like a TV ticker at the bottom, with the text "20 Year old Mark Lee found doing donuts in Target parking lot". A search for this text led AFP Fact Check to a Pinterest post featuring a photo of Canadian rapper Mark Lee and the same ticker but in higher quality. 
AFP Fact Check ran checks on Lee's social media accounts and found that the photo of him used in the Pinterest post was actually cropped from one of his Instagram posts from January 2020.

Image digitally altered 
Beyond sharing the same ticker and breaking news logo, a part of Lee's photo can also be seen in the viral image (see areas circled in yellow below).
An image showing the similarities between the photos
Meanwhile, no credible news outlet in Nigeria or the neighbouring Republic of Benin has reported on a mortuary building that purportedly collapsed.