Footage of sheep intestines in Turkish dish falsely presented as a soup of human penises in China
Nigerian separatists are sharing two videos on social media claiming that the footage shows Chinese restaurants serving human penises. The claims come a week after AFP Fact Check debunked a satirical story presented as fact on social media that thousands of human penises shipped from Nigeria were intercepted in China. This recent claim is also false; the clips were filmed in the Turkish city of Adana and show a special delicacy called Şırdan.
The claim has been circulating in numerous social media posts alongside two similar videos.
One 30-second clip was published on a Facebook page called Itz Lizzy TV. The account has more than 100,000 followers and is known for promoting the activities of Nigerian separatists Indigenous People of Biafra.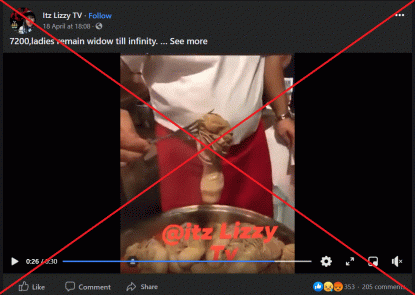 Screenshot taken on April 20, 2021, showing the Facebook post
"7200,ladies remain widow till infinity. 7,200 men penis discovered in China from NIGERIA last week. Here we go! (sic)," reads the Facebook post, which has been shared more than 1,000 times since publication on April 18, 2021.
The second clip appears in a post claiming that "Nigerians penis is now Chinese pepper soup (sic)". The 15-second video, posted on a Facebook account with a profile picture displaying the Biafran name and logo, has been viewed more than 10,000 times.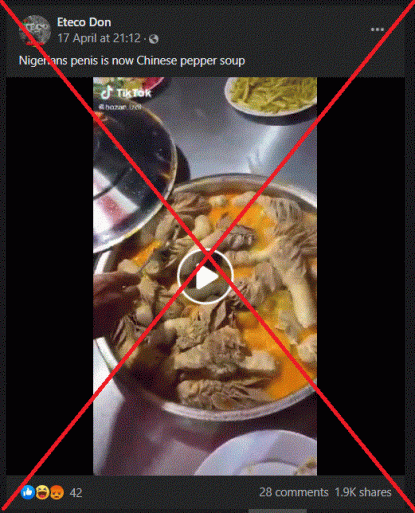 Screenshot taken on April 20, 2021, showing the Facebook post
The Biafra separatist group has been pushing for an independent state in southeastern Nigeria since 1970, which has resulted in repeated clashes with Nigeria's security forces and heightened tensions in the region. Supporters regularly use sensational news and misinformation to mock the country's leadership.
Both videos show large pots of food being prepared, in one case outside a busy restaurant at night. As in Nigeria, similar claims about the contents of the dishes were posted in neighbouring Ghana, linking the videos to a hoax article about a shipment of human penises purportedly seized in China.
However, that report originated on a satirical website called the World News Daily Report and was entirely fictional; AFP Fact Check debunked claims presenting this story as fact. 
Footage of Turkish restaurant 
Analysis by AFP Fact Check found that the videos had nothing to do with China and were from old social media posts featuring a popular Turkish cuisine called Şırdan.
The longer video offered a clue seven seconds into the footage when an Instagram account called "@bogazisi" flashes up on the screen.
A search of the account revealed a higher quality version of the video from October 9, 2019.

"We went to @sirdancibedo one night to eat şırdan and mumbar in Adana," reads the Turkish post translated into English.
Şırdancı Bedo is a fast food restaurant located in the southern Turkish city of Adana, a region known for making dishes with stuffed sheep's intestines.
A post from Şırdancı Bedo's Instagram account describes Şırdan as a uniquely Adana specialty made of sheep's fourth stomach, known as abomasum. 
AFP Fact Check confirmed the video was taken in Turkey, not China. Using Google Street View technology, we found a picture of the exact location in Adana, Turkey.
The architectural design of the restaurant's building and the "OTO PARK" inscription behind the waiter in the video can also be seen on Google Street View.
We also traced the second, shorter video using a TikTok handle displayed in the top right-hand corner and found it was published on September 2, 2020, more than five months before the satirical article.
"Şırdan lovers, make yourself known," reads the Turkish post translated into English.