False posts share hoax 'Israeli strike' footage taken from a video game
A video has been viewed tens of thousands of times in Facebook posts that claim it shows Israeli air strikes during deadly fighting in Gaza in May 2021. The claim is false: the video  shows imagery from a war-themed online game and an unrelated clip that has circulated since 2009.
The video was shared in this Facebook post on May 18, 2021. It has been viewed more than 30,000 times.
"Israel air defence shot down dozens of Turkish & Iranian fighter jets in the skies," reads the video's Hindi-language caption.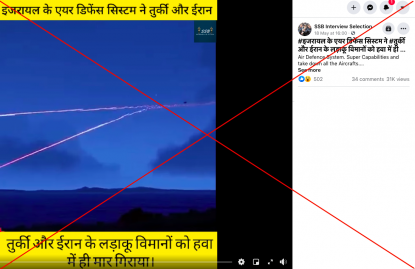 The video circulated as clashes between Israel and Hamas escalated in May 2021.
Israeli strikes killed 260 Palestinians, including 66 children, AFP reported here. Rockets and other fire from Gaza killed 13 people in Israel. 
The video has also been shared here and here on Facebook alongside a similar claim.
The claim, however, is false. 
A combined reverse image and keyword search on Google found the video closely matches footage here, here and here from the war-themed online game ARMA 3.
The description of one of the videos translates to English as: "Phalanx Tomahawk The moment of a Cius CIWS Phalanx cruise missile being shot down by a BGM-109 Tomahawk ARMA3 cruise missile".
At the end of the video, Japanese-language text appears on the screen which reads: "This video is fiction. The characters, names, and events are fictitious and have nothing to do with reality."
Below is a screenshot comparison of the video in the misleading posts (L) and the YouTube videos (R):
Bohemia Interactive, the company that developed ARMA 3, confirmed that the video was taken from the game. 
"We're confident that the footage in the YouTube video you linked is of Arma 3, made by one of our players," the company told AFP.
"It's worth mentioning that our Arma games can be modded (adapted) by users, and that people can create their own scenarios with the in-game editor.
"As such, what you're seeing in this video is not the vanilla 'out-of-the-box' Arma 3 experience, but appears to be a modded version of the game and a custom scenario made by players."
Old footage
The final 30 seconds of the video in the misleading posts was taken from a clip posted online more than a decade before the Israel and Hamas conflict in May 2021.
AFP traced the footage to a YouTube video posted in July 2009 titled "CRAM firing in Iraq".
AFP has debunked similar misleading claims in Portuguese and Spanish.