Facebook account impersonating Ugandan newspaper promotes fabricated job listings
A Facebook account purporting to be run by Ugandan newspaper Daily Monitor is spreading the claim that the country's Covid-19 task force is hiring more staff. This is false; the account is fake and not affiliated with the newspaper. Furthermore, AFP Fact Check confirmed with Uganda's Ministry of Health that the job listings are a hoax.
"MINISTRY OF HEALTH COVID-19 TASK-FORCE JOBS AT EVERY SUB-COUNTY-----
APPLICATION DEADLINE: 28th /03/2021
START DATE: 5th /04/2021 (sic)," reads the first part of the Facebook post, published on March 24, 2021, and since shared more than 150 times.
A screenshot of the Facebook post, taken on March 26, 2021
However, the Facebook page is fake. AFP Fact Check contacted Daily Monitor and the newspaper confirmed that it does not own the page, nor did it post such an advert.
"This is a fake page impersonating the Daily Monitor. Our official Facebook page is verified and has not posted such an advertisement," a spokesman for the Daily Monitor told AFP Fact Check.
According to Facebook's transparency data, the bogus page was previously called "Daily Jobs updates" and created on July 28, 2019. Its name changed in January 2021 to "Daily monitor jobs" and by March 26, 2021, only five posts in total had been published on the page.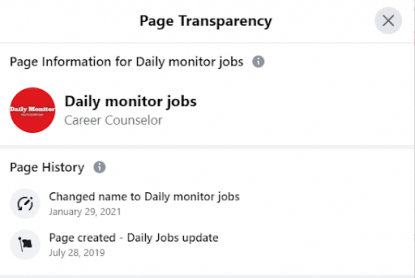 Screenshot taken on March 26, 2021, showing the page's creation date and change of name
The advert also asks applicants to submit supporting documents to a Gmail address that is not managed by Uganda's Ministry of Health, which raises further suspicion about the authenticity of the listing.
Ministry of Health is not hiring
Uganda's health ministry also distanced itself from the advert.
"We have not placed an ad for jobs on Facebook. The 'Daily monitor jobs' is a fake account that advertises non-existent jobs and extorts money from job seekers," spokesman Emmanuel Ainebyoona told AFP Fact Check.
Ainebyoona added that they had a similar advert removed from the page after officials flagged it on March 18, 2021.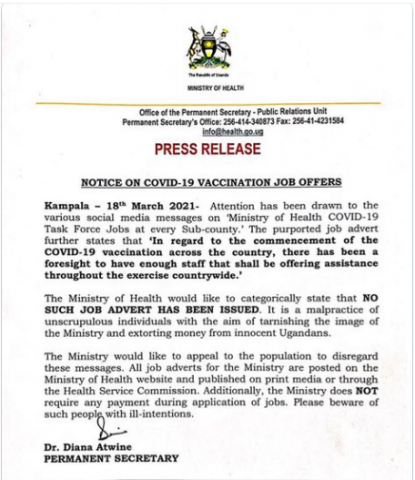 A screenshot of the notice from Uganda's health ministry, taken on March 26, 2021
Ainebyoona also noted that they had received complaints from people who thought they had applied for a genuine job and received fake appointment letters after being asked to pay interview fees. 
He clarified that the ministry advertises vacancies with the Uganda Public Service Commission and in mainstream media publications.
AFP Fact Check has published several debunks here, here, and here about fake job ads on Facebook.