This is a fabricated Vanity Fair cover that was posted by a parody Twitter account
After US President Joe Biden announced Pennsylvania Health Secretary Rachel Levine, a transgender pediatrician, as his nominee for assistant secretary of health, an image circulated online that purported to show Levine on the cover of Vanity Fair's March 2021 issue. The image, however, has been doctored. It was originally shared on a parody Twitter account for Levine. Vanity Fair's March 2021 edition features US singer Billie Eilish.
The photo was shared on social media in the United States and South Korea.
"I guess the left is okay with this," reads the caption on a Facebook post published on February 2, 2021.
The picture appears to show the cover of Vanity Fair magazine featuring Rachel Levine, who was revealed last month to be US President Joe Biden's nominee for assistant secretary of health. If her nomination is approved by Senate, she will become the highest-ranking transgender official in US government.
Text on the purported magazine cover reads "The sky is the limit" and "Madam President Levine, a leader in the making".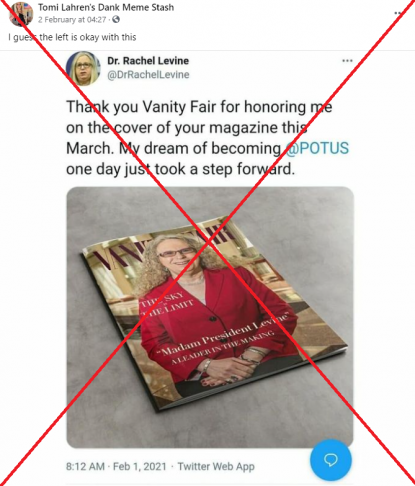 Screenshot of Facebook post taken on February 4, 2021
The image, however, has been doctored. Levine has not appeared on the cover of Vanity Fair.
A reverse image search on Google found the image was originally shared by Twitter user @DrRachelLevine, which was a parody account that has since been suspended. Levine's verified Twitter handle is @SecretaryLevine.
"Thank you Vanity Fair for honoring me on the cover of your magazine this March. My dream of becoming @POTUS one day just took a step forward," reads this tweet from the parody account posted on February 1, 2021. It was shared alongside the doctored image of a Vanity Fair magazine.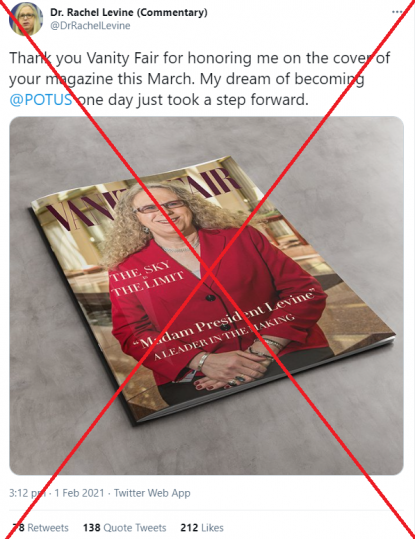 A screenshot of the post from the parody account
A search of Vanity Fair's archives found the magazine features US singer-songwriter Billie Eilish on the cover of its March 2021 issue.
Screenshot of the Vanity Fair website captured on February 4, 2021
Keyword searches on Google News and the website for Vanity Fair found no reports about Levine appearing on the front cover of the magazine.