Swiss Covid-19 vaccine guidance misinterpreted online
Anti-vaccine advocates are claiming Switzerland banned Covid-19 shots, suggesting they do not work. This is false; the Swiss government is not recommending vaccination for spring and summer 2023 because the coronavirus has been circulating at low levels and its population already has widespread immunity -- in part due to the jabs, which authorities say are safe and effective and remain available on a case-by-case basis.
"Switzerland bans the COVID vaccines," said Robert Malone, who leveraged his credentials as a scientist to become a star in anti-vaccine circles during the pandemic, in an April 8, 2023 tweet.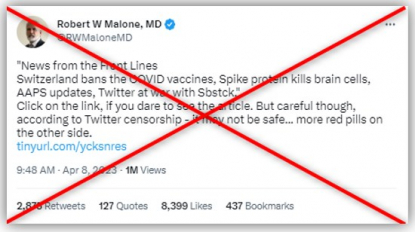 Screenshot from Twitter taken April 11, 2023
Similar posts spread across Twitter and platforms such as Facebook and Instagram, amplified by right-wing figures and other anti-vaccine activists and groups.
Many attributed the rumor to an April 7 article from Report 24, a German website that has previously promoted misinformation about vaccination. The story claims the Swiss government has withdrawn all its recommendations for Covid-19 shots.
But the posts omit context from guidelines that Switzerland's Federal Office of Public Health (FOPH) released days earlier.
"The conclusions drawn by some voices online following the updated vaccination recommendation are incorrect," said Simon Ming, a spokesman for the FOPH, in an April 12 email.
What the guidance says
Switzerland's decision to not recommend Covid-19 vaccines for spring and summer 2023 is based on the virus's low prevalence and the population's high level of immunity, achieved through vaccination and prior infection.
"This is not a ban but is rather an approach to setting vaccine recommendations that is tailored to their own country's need," said Cindy Prins, clinical associate professor of epidemiology at the University of Florida, in an April 11 email.
More than 98 percent of the country has antibodies against Covid-19, according to the recommendations, which the agency published in English, German, Italian and French.
"Nearly everyone in Switzerland has been vaccinated and/or contracted and recovered from Covid-19. Their immune system has therefore been exposed to the coronavirus," Ming said.
He added that Switzerland has not changed its assessment of the safety of authorized Covid-19 shots.
High-risk individuals can still access the vaccines after consulting a doctor, the FOPH's website says. That includes people who are older than 65, have chronic health conditions or are pregnant.
"Vaccination may be wise in individual cases, as it improves protection against developing severe Covid-19 for several months," the agency's recommendations say.
The FOPH plans to update its guidelines ahead of the fall and winter seasons, but Ming told AFP they could change earlier if Switzerland's epidemiological situation and immunity levels shift.
Shots still available
Novavax, an American biotechnology company, told AFP its Covid-19 vaccine had "not been banned from Switzerland" as of April 11.
Pfizer also confirmed its vaccine is still available in Switzerland. Swissmedic, the agency that authorizes drugs and medical products, on April 11 approved Pfizer's bivalent booster shot for people aged 12 and older.
Amesh Adalja, a senior scholar at the Johns Hopkins Center for Health Security, said the vaccine will still be administered on a case-by-case basis.
"The Swiss government's guidance is for now -- it's not retroactive -- and can only be interpreted in the context of the widespread population immunity that exists in Switzerland today in which continued vaccination of low-risk persons may be of marginal value," he said in an April 11 email.
The US Centers for Disease Control and Prevention recommends Americans stay up to date on their vaccinations. The agency says millions of people have received the Covid-19 shots, which are subjected to rigorous safety monitoring and testing.
AFP has debunked other misinformation about Covid-19 here.