Climate sceptics sneak unsound research into peer-reviewed journals, scientists warn
Observers have long questioned the business model of journals taking fees from academics desperate to publish -- and now say biased authors are taking advantage of the system in a bid to undermine climate action.
Peruvian glacier study
In one case investigated by AFP, glacier specialists pointed to a peer-reviewed study that appeared in the Journal of South American Earth Sciences, published by the major academic publishing group Elsevier, in November 2022.
The study attacked a separate paper by Oxford University scientists published in Nature Geoscience, rejecting its findings that human-driven warming caused a Peruvian glacier to melt, threatening to flood a nearby city.
The Nature study has been cited as evidence in a lawsuit: a local farmer, backed by an NGO, is suing German energy company RWE for the part he says its carbon emissions played in the warming.
Two of the authors of the counter-study, geologist Sebastian Luening and chemist-turned politician Fritz Vahrenholt, are ex-RWE executives. Prominent climate contrarians, they jointly authored a 2014 book titled "The Cold Sun: Why the Climate Catastrophe is not Happening". They did not respond to requests to comment.
Farmer and tourist guide Saul Luciano Lliuya poses by Lake Palcacocha, 4,650 meters above sea level in Huaraz, northeastern Peru, on May 23, 2022. Lliuya is suing German energy giant RWE over the melting of Peruvian glaciers ( AFP / Luka GONZALES)
One of the scientists whose separate work was cited in their paper, palaeoclimatologist Nathan Stansell of Northern Illinois University, told AFP their study was "fraught with misinformation, mischaracterizations and bias".
"They present the same debunked argument that since it was warm in Medieval times then there is nothing alarming about recent warming. The bulk of the paleoclimate community recognizes that the groups trying to spread this fallacy cannot compete with sound scientific data," he said.
In other cases, he said, "the climate deniers are getting very sneaky. They sneak in some unrelated story with their study so they can reference it later. As an editor for a couple of journals, I've seen it several times," he said. "It's very aggravating."
Distorted graph
The main graphic in lead author Luening's study lists among its sources a 2008 paper by glacial geologist Jorge Strelin of Cordoba University in Argentina. Strelin told AFP that it misrepresented data cited in his work, notably by omitting elements showing the sharp retreat of the glacier over the past century.
A third scientist cited in the Luening study, Ben Marzeion, a professor of climate geography at the University of Bremen, found it "misguided" for making "meaningless" comparisons between changes over separate time periods with different climate variables and scales of glacier.
"If I had been a reviewer, I would have strongly recommended against publication," Marzeion told AFP.
The journal's editors had previously received concerns about the study and "were satisfied with the author's response", Andrew Davis, Elsevier's vice-president for corporate communications, Europe, told AFP in an email.
"The editors did not detect unethical behaviours and it is their belief that the two research groups simply did not agree with each other," he said.
But the publisher also apologised for the removal of a disclosure in the original manuscript.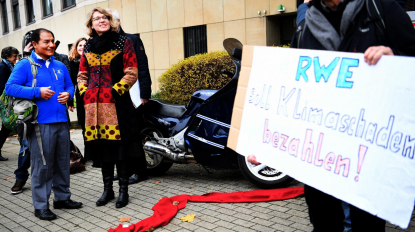 Peruvian farmer and mountain guide Saul Luciano Lliuya (left) arrives for a hearing in Novermber 2016 during an early stage of his climate battle against energy company RWE ( AFP / PATRIK STOLLARZ)
"Note that SL (Luening) and FV (Vahrenholt) are former employees of the company RWE; the study has not been influenced by this," the disclosure read. It appeared in a preliminary "pre-proof" version of the study but disappeared from the published version.
Elsevier said the disclosure would be added to the study after approval from the authors. "The publisher would like to apologize for any inconvenience caused," it told AFP in an email.
The author of the Oxford study, Rupert Stuart-Smith, submitted to the journal a rebuttal of Luening's paper in April 2023. A pre-print version of this seen by AFP contested the use of data in the counter-study and detailed what it called its "inaccurate or misleading assertions".
"It's far easier to put it down as a simple disagreement and allow us to go through the regular process of public comment and response than it is to take formal action against a published article," he told AFP.
Davis said the Journal of South American Earth Sciences allows authors to "pay an article processing charge and pay to publish in the journal. This is a very normal arrangement amongst all academic publishers." The articles are peer-reviewed as part of this process.
Firm denies funding study
Another paper about the Peru glacier appeared in the journal Remote Sensing, from publisher MDPI, in 2021. The study, reportedly cited as evidence by RWE in its defence in the lawsuit, reviewed data on ice-flow velocity and assessed the risk of avalanches and consequent floods.
Stansell said the section on flood risk should have been dealt with in a separate paper as it "seems out of place and doesn't relate directly with their principal findings".
A 2022 article by investigative media group SourceMaterial (archived here) said the study was produced thanks in part to funding from RWE. The article cited the study's two lead authors as saying they produced it for free, without prompting from the company. The two did not respond to requests for comment to AFP.
RWE spokesman Guido Steffen told AFP in an email that the study "was made independently from RWE and the court case and it was not funded or paid for by RWE. The scientists made it at their own will to pursue their scientific goals".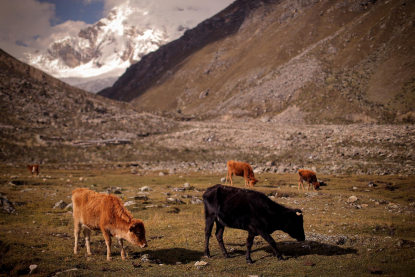 Campaigners say melting glaciers such as Mount Palcajaru pose a threat to the city of Huaraz ( AFP / Luka GONZALES)
Regarding the Luening study, he said: "We did neither commission that study nor play any role in producing it."
MDPI publishes articles in open-access journals for a fee: 2,500 Swiss francs ($2,760) in the case of Remote Sensing, the title that published the glacier study. Its website says all articles it publishes are refereed by at least two senior experts in the relevant field and the final decision to publish a paper is taken by an external editor.
The publisher may retract work in cases of "scientific misconduct", the site says. "Scientists contesting an article in one of MDPI's journals are asked to prepare a scientifically rigorous Comment and submit it to the Editors of the journal for editorial review."
Peer-review problems
Research indicates that climate misinformation has been flourishing online as governments push reforms to curb use of the fossil fuels that cause planet-warming carbon emissions.
The move towards electric cars and renewable energy has prompted scorn among sceptics who see it as a threat to their lifestyle and values. Some analysts see climate scepticism as a badge of political and ideological allegiance for free-market conservatives.
Observers say academic publishing represents an extra front in the struggle.
"The recent explosion of so-called 'predatory journals' is creating problems that are pro-actively explored by climate sceptics," said Carl Schleussner, a scientist at research group Climate Analytics. "It opens the door to those who want to willingly get dubious research out there."
MDPI, publisher of the Andes ice-flow study, has been criticised for the quick turnaround of its peer-review process.
In general, "the quality of peer review is highly variable. Editors often have a hard time finding reviewers, and because reviewing is volunteer work, some reviewers are more diligent than others," said Brian Nosek, a psychologist and co-founder of the Center for Open Science, a US body that promotes transparency in scholarship.
"Also, science is complex. So, any given reviewer may only be qualified to critique a portion of the substance of a paper, and therefore miss critical details."
Stansell, who himself edits a title for MDPI, defended the system. "Just because someone sat on a paper for months doesn't mean that the peer-review process was any better," he said.
German energy giant RWE denies funding two scientific studies that downplayed the role of human-caused carbon emissions in the melting of glaciers ( AFP / Ina FASSBENDER)
'Conflicts of interest'
Thousands of scientific papers get withdrawn from publication -- an occurrence that was noted during the Covid pandemic, which spurred a rush to publish studies on the virus and vaccines.
Retraction Watch, a blog that tracks cases of academic papers being withdrawn, counted 5,000 such cases in 2022 -- only about a tenth of a percent of the total number of studies published, its co-founder Ivan Oransky told AFP in an interview.
"That number should be higher. There are a lot of problematic papers that don't get retracted for various reasons," he said.
With authors in search of promotions and tenure paying to get in print, "this is a publish-or-perish incentive problem, combined with a business model for journals that publishing more is better for them," Oransky said.
A 2012 survey (archived here) published in the Proceedings of the National Academy of Sciences found that two-thirds of retractions were due to misconduct such as fraud, rather than errors.
"There are lots of cases where people fail to disclose conflicts of interest," Oransky said. "Most of the time, journals don't retract for that reason" but issue a correction instead.
Unscrupulous authors seek to get unsound work published in journals with a lax peer-review system that often calls on unqualified reviewers, he added.
"A lot of junk gets through peer review," he said. "It is really time that everybody admitted that so that we can try and do better."
(Schleussner, Nosek and Oransky did not comment on the particular studies mentioned in this article nor on the individual publishers.)
Extreme weather study slammed
In September 2022, top climate scientists called for the withdrawal of a study that claimed scientific evidence of a climate crisis is lacking, citing data on extreme weather events such as rainfall, cyclones, tornadoes and droughts.
Two of the authors were signatories of the World Climate Declaration, a text that repeated various debunked claims about climate change -- fact-checked by AFP here. Other signatories included Varenholt, co-author of the glacier paper, and several people with links to the fossil fuel industry.
Four prominent climate scientists said the study manipulated data, cherry-picking facts and ignoring material that would contradict their assertions.
Floodwater following heavy rains in Chaclacayo, east of Lima, Peru on March 15, 2023 ( AFP / Cris BOURONCLE)
The peer-reviewed paper by four Italian scientists -- three physicists and a meteorologist -- appeared in January 2022 in the European Physical Journal Plus, a general physics title published by Springer Nature, one of the most prestigious science publishers in the world. It was cited by mainstream media and online posts fact-checked by AFP.
The paper was "published by people not working in climatology and obviously unfamiliar with the topic and relevant data," Stefan Rahmstorf, Head of Earth System Analysis at the Potsdam Institute for Climate Impact Research, told AFP.
"It is not published in a climate journal -- this is a common avenue taken by 'climate sceptics' in order to avoid peer review by real experts in the field."
In September 2022 Springer Nature put a notice on the article warning readers "that the conclusions reported in this manuscript are currently under dispute" and said it was investigating.
In March 2023 Christian Caron, executive publisher of Springer Nature, told AFP that the investigation was "progressing but still ongoing. Additional material received as part of the investigation is currently following the usual procedures of an extensive peer-reviewing process, which may take more time than anticipated."