Cropped image misrepresents state tally in Nigerian presidential election
Social media posts claim an image of a spreadsheet from Nigeria's Independent National Electoral Commission (INEC) shows a miscalculation in Oyo state that appears to favour the ruling All Progressives Congress, whose presidential candidate Bola Tinubu went on to win the general election. But the claim is false: original video footage from a Nigerian broadcaster shows that the image of the spreadsheet was cropped, meaning only some of the rows of figures were visible, giving the false impression INEC had miscalculated.
"The total vote is 151,745 but INEC calculated 449,884," reads a tweet with more than 28,000 likes.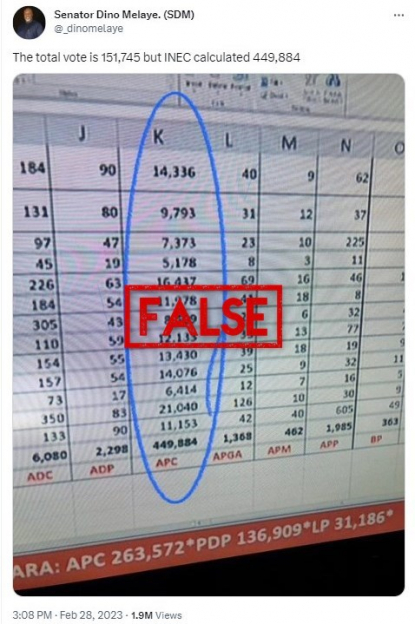 A screenshot of the false post, taken on March 1, 2023
The tweet was posted by a former senator from the opposition People's Democratic Party (PDP), Dino Melaye. He recently staged a walkout at the national collation centre in Abuja over election tallying.
Melaye has previously been charged with spreading false information by the Nigerian government. He has also been fact-checked by AFP in the past.
A similar claim also appeared on Facebook.
Nigeria held elections on February 25, 2023, as the country grapples with a currency shortage, fuel scarcity, and increasing insecurity.
Tinubu won with 8.8 million votes against 6.9 million for PDP candidate Atiku Abubakar. Labour Party's Peter Obi secured third with 6.1 million votes, according to INEC.
The voting was mostly peaceful but was troubled by long delays at many polling stations, while technical hitches disrupted the uploading of results to a central website, fuelling concerns over vote rigging.
PDP and Labour have already called for the vote to be scrapped and have demanded a fresh election because of what they claimed was massive manipulation of ballot counts.
But the claim that this spreadsheet shows INEC miscalculated voting results in Oyo state is false.
Original image
Using a keyword search for "APC 449,884," AFP Fact Check found that Tinubu won Oyo state with the same number of votes, according to INEC results.
In the image in the Twitter post, there is also what appears to be a news ticker, which is the text that scrolls at the bottom of some television news broadcasts.
AFP Fact Check found that the style of the news ticker is similar in font and colour to the one used in Channels TV's live election coverage.
A screenshot of Channels TV election coverage, taken on March 1, 2023
From there, AFP Fact Check found Channels TV's live Oyo state election coverage on its official YouTube page, which included an unedited image of the election tally spreadsheet.
A screenshot of Channels TV election coverage, taken on March 1, 2023
Additionally, none of the tallies included in the Twitter screenshot matches their totals – not only for the APC. For example, the Allied People's Movement (APM) party won a total of 461 votes, but the visible data only equals 171 votes.
In the second half of the spreadsheet included in Channels TV's broadcast, Melaye's own party, the PDP, won 182,977 votes. However, the visible data only shows 66,316 votes.
This is because the first 31 rows of the spreadsheet are not visible. The totals are correct when taking into account the hidden rows from the top of the spreadsheet.
A screenshot of Channels TV election coverage, taken on March 1, 2023
Nigeria's elections have been dogged by misinformation, and INEC has repeatedly been accused of corruption, vote-rigging, and malpractice, which has fuelled misinformation about the organisation.
You can read the rest of our election-related coverage here.