Mistrust in Nigeria's electoral body 'weaponised' online ahead of polls
Nigeria's electoral body faces a tough task ahead of Saturday's poll as public trust in the organisation has plunged over accusations of corruption, vote-rigging and malpractice, fuelling disinformation.
Africa's most populous country has struggled with electoral violence, widespread claims of fraud and court challenges to results since returning to democratic civilian rule in 1999.
Nearly 80 percent of Nigerians distrust the Independent National Electoral Commission (INEC), according to a recent survey by the pan-African survey group Afrobarometer, just days before the country chooses a successor to President Muhammadu Buhari.
"Most elections have been marred by vote buying, ballot box snatching, over-voting or even a failure to conduct elections where they're supposed to," said the author of the Afrobarometer study, Raphael Mbaegbu.
"INEC has a lot of work to do to let people know how independent they are," he told AFP Fact Check.
Nigeria still faces huge challenges including a sluggish economy and growing poverty ( AFP / Michele Spatari)
After eight years under Buhari, Nigeria still faces huge challenges, from attacks by jihadists and separatists to a sluggish economy and growing poverty, leaving many of its 39 million eligible voters desperate for change.
But many have little faith in the electoral process, which in the past has been plagued by intimidation, violence and vote rigging.
"My hopes, my excitement about this election is nonexistent," said Deji Adeyanju, founder of the civil rights group Concerned Nigerians.
With some 36 million Nigerian social media users, disinformation tapping into INEC distrust has rapidly spread across social media platforms like Facebook and TikTok.
AFP has debunked numerous claims, including fake INEC press releases and hoax announcements that citizens can print their own voting cards.
Repeated failings
Established in 1999, INEC has repeatedly come under fire for failing to organise fair and safe elections.
Election observers and human rights groups accused the body of colluding with government officials in the fraud and violence that marred the 2007 elections.
More recently, the former vice president and current presidential candidate, Atiku Abubakar, appealed Buhari's 2019 election on the basis of "irregularities", but the country's Supreme Court rejected the case.
INEC has introduced a biometric voter accreditation system to help prevent electoral fraud ( AFP / Benson Ibeabuchi)
In a bid to make Saturday's election more fraud-resistant, INEC introduced technological innovations, including the bimodal voter accreditation system (BVAS).
The process identifies voters through facial recognition and biometrics.
Though many analysts see INEC as more prepared than before, the new system has already suffered shortcomings. In January, a court overturned a state election result after ruling there had been over-counting despite the use of BVAS. The incident sparked false claims on social media.
The electoral body has "a history of what people see to be fraudulent. It can't change this all of a sudden," said Idayat Hassan, the director of the Abuja-based Centre for Democracy and Development (CDD).
INEC's non-partisanship has also been challenged, including in 2021 when President Buhari nominated his social media aide, Lauretta Onochie, as INEC commissioner in 2021.
While political appointments are often seen as rewards for loyalty, nominees usually "paid lip service to the notion of political neutrality," said analyst Ikemesit Effiong of geopolitical consultancy SBM intelligence in Nigeria.
"With Lauretta's nomination, all that went out the window."
Onochie's nomination was later withdrawn after public outcry.
Most recently, INEC faced a backlash after its official Twitter account liked a post describing leading presidential candidate Peter Obi as an "opportunist."
The INEC rejected allegations of partiality.
"The Commission is an independent electoral body and does not have preference for any candidate or political party," it said in a statement.
'Delegitimise' INEC
INEC's flaws have played into the hands of those seeking to discredit the institution, according to a recent CDD report on the role of social media in the 2023 ballot.
"People weaponise mistrust and disinformation to delegitimise the commission," Hassan, the CDD director, said.
"(They are) preying on Nigerian's distrust of institutions and previous problems with the voter register and electoral system," she added.
One of the biggest threats to INEC and the election comes from separatists in Nigeria's southeast, known as the Indigenous People of Biafra or IPOB.
The electoral commission says the rebels have carried out more than 50 attacks on its offices nationwide since 2019, with the majority taking place in southeastern states.
IPOB has denied responsibility for the assaults.
AFP Fact Check has investigated multiple false claims shared by pro-IPOB accounts. They range from alleged footage of Nigerian forces torturing separatists to the rebels apparently shooting down a government drone.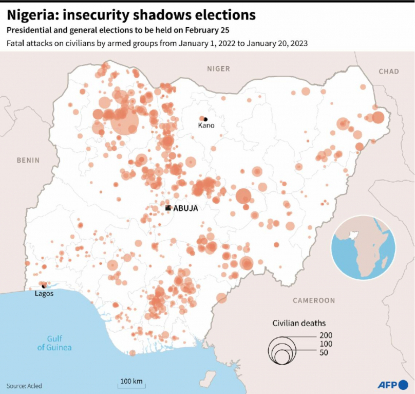 Analysts say the attacks - both physical and online - are aimed at undermining faith in the Nigerian state.
"Disinformation has triggered election violence in the past because people believe what they saw on social media," said Opeyemi Kehinde of Nigeria Factcheckers' Coalition, created to verify election-linked claims.
But despite Nigeria's many issues, millions of young people are itching for the country to advance.
Almost 40 percent of registered voters are under the age of 35, and many are hoping to finally trigger change by casting a ballot to replace Buhari.
For the Afrobarometer's Mbaegbu, there is hope. He sees Nigerian youths as motivated and cautiously optimistic.
"They are out there to take back their country," he said.