Video of Texas birds unrelated to Turkey earthquake
Social media posts claim a video shows a flock of birds over a freeway before an earthquake hit Turkey and Syria on February 6, 2023. This is false; the video was shot in the US state of Texas and published online in January 2017.
"Strange behaviour was observed before earthquake in #Turkey. Pray for families. #TurkeyEarthquake," says a February 6, 2023 tweet viewed more than 500,000 times.
Other posts have shared the same video.
Screenshot of a tweet taken February 8, 2023
All of them place the footage in Turkey, where a 7.8-magnitude earthquake struck February 6. The quake killed at least 12,000 people and injured thousands more in Turkey and neighboring Syria.
However, the video shared online is unrelated to the disaster. AFP previously debunked posts linking the video to Russia's invasion of Ukraine.
Reverse image and Google keyword searches reveal the footage was originally published January 19, 2017 on Instagram. The listed location is Houston.
"Dreamy. #houstontexas #tweets #houstoncity," says the caption, which indicates the video was licensed by Jukin Media, a California-based media company.
Below is a screenshot comparison of the video in the 2017 Instagram post (left) and the 2023 tweet (right):
Screenshot of an Instagram post taken February 8, 2023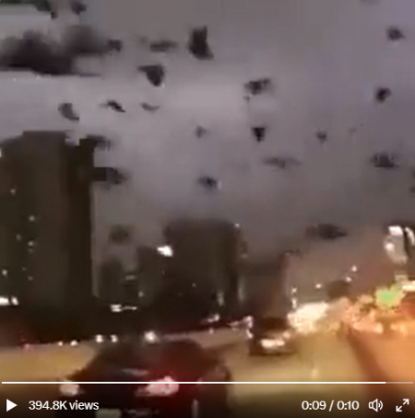 Screenshot of a tweeted video taken February 8, 2023
While the resolutions are different, the clips depict the same scene.
The location shown in the footage corresponds with Google Street View images of Interstate 610 in Houston.
Flocks of black birds such as grackles are not an uncommon sight in Texas.
AFP has fact-checked other out-of-context photos and videos shared online after the 2023 earthquake here, here and here.