Photo taken during Belgian colonial rule in the Congo does not show UK ambassador to Somalia
A photo of two white children sitting next to a black toddler in a bird cage has been shared on social media in Africa alongside a claim that the girl on the left is Kate Foster, the British ambassador to Somalia. But this is false: the image was taken at least 70 years ago during Belgium's colonial rule in the Congo.
The photo was published on Facebook in Kenya and South Africa on November 3, 2022.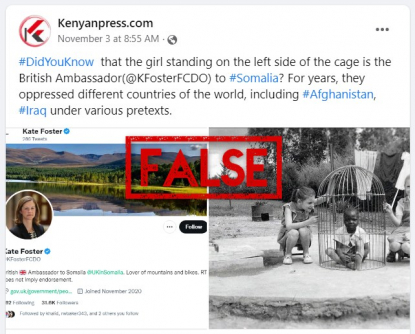 Screenshot showing the false post, taken on November 15, 2022
"#DidYouKnow that the girl standing on the left side of the cage is the British Ambassador (@KFosterFCDO) to #Somalia? For years, they oppressed different countries of the world, including #Afghanistan, #Iraq under various pretexts. I want ask Twitter to remove her blue checkmark (sic)," the post reads.
Foster has served as the British ambassador to Somalia since February 2021.
The same allegation about her was made in this tweet.
But the claim is false.
Not Foster
A reverse image search found the photo on the website of the Centre for Historical Research and Documentation on War and Contemporary Society (Cegesoma) in Belgium.
The photo is part of an archived collection, titled: "Collection Monsieur Van de Meerssche: Congo Belge, [1950-1960]."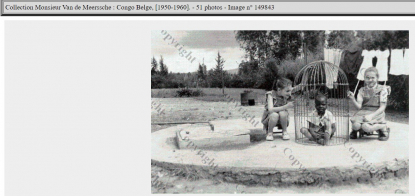 Image on the Cegesoma's archives
Congo Belge means Belgian Congo which refers to a former African country ruled by Belgium from 1908 to 1960 — the modern-day Democratic Republic of the Congo (DRC).
The photograph was also used as a 2020 book cover by historian Paul Van Damme.
The book's title written in Dutch translates to: "White-Black in Black and White. Together and yet apart: Pictures and Stories from The Belgian Congo."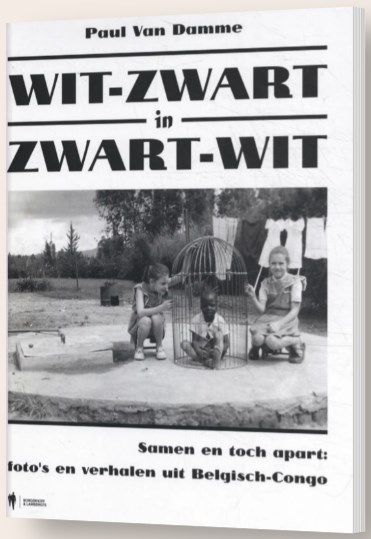 Screenshot of the book cover
According to information on the Cagesoma website, the photograph was taken sometime in the decade before 1960. This makes it unlikely for Foster to be the young girl on the left; there is no evidence to show that she lived in DRC or that she had been born at the time.
Foster's official LinkedIn account shows that she joined university in 1996 — this is at least 36 years after the photo was archived. She was first employed in 1999.
The United Kingdom Foreign, Commonwealth and Development Office also confirmed to AFP Fact Check that "Foster is not among the girls in the photo as the posts suggest".
AFP Fact Check is still verifying the identity of the two girls in the photo.
Under Belgian rule, the Congolese suffered greatly before gaining independence in 1960. Atrocities committed against them included forced labour, beatings and the looting of artifacts.
The same image was previously shared out of context in the Middle East, North Africa and Indonesia, as debunked by AFP Fact Check in 2020.