Conspiracy theories denying Ebola outbreak in Uganda shared online
In Uganda, multiple social media posts have claimed that there is no Ebola in the country. However, local authorities and international organisations have confirmed an ongoing outbreak. Uganda's health ministry and the World Health Organization (WHO) declared an outbreak of Ebola in the country on September 20, 2022, after a young man showed symptoms of the disease and died. The NGO Doctors Without Borders (MSF), which is working alongside local health workers to fight the outbreak, told AFP Fact Check that the virus has been spreading.
"Ugandans please wake up, we don't have ebola in Uganda Kijambiya wants to cause another lockdown (sic)," reads the caption in one of the TikTok videos spreading the claim and published on September 27, 2022.
Screenshot showing the conspiracy theory on TikTok, taken on October 17, 2022
A section of Ugandans, in particular opposition supporters, use the term "Kijambiya" to refer to the Ugandan government.
In the 75-second clip, local journalist Joseph Kabuleta, who is also a former presidential candidate and an ardent critic of the current administration, claims "they are planning to use Ebola to institute another lockdown ... and I know it".
Kabuleta adds: "And now they have started manufacturing consent through the media and even social media where there is a post put by media houses saying that […] bring the lockdown, bring the lockdown, all of them are paid... (sic)."
He urged Ugandans to resist attempts by authorities to put the country into another lockdown just nine months after Covid-19 regulations were finally eased.
AFP Fact Check found the original video, which is nearly five minutes long, on the Facebook page of Uganda's National Economical Empowerment Dialogue (NEED) party, which Kabuleta leads. It was first published on September 29, 2022.
In the footage, Kabuleta says that the government intends to use Ebola as an excuse to institute a lockdown in the country so that it can make money from Western donors and international non-governmental organisations.
Uganda had one of the world's strictest and longest Covid-19 lockdowns that involved the closure of schools, night-time curfews, and the suspension of inter-district travel. Regulations were lifted in January 2022.
The same clip was also shared on TikTok and on Twitter.
Another post making a similar claim was shared on TikTok on October 17, 2022.
The video contains a collage with images of Uganda President Yoweri Museveni, the Ugandan national flag, two unidentified children and a group of demonstrators holding placards with the words: "Stand up, speak out."
A message on another image reads: "#Saynoto lockdown, no Ebola in Uganda."
Screenshot showing the conspiracy theory, taken on October 27, 2022
In the video, a female voice can be heard saying: "The people of Uganda, reject any attempts by the government to put Kampala under lockdown. They have imposed a fake Ebola outbreak and that's the reason they have placed Mubende and Kassanda districts on lockdown, but we know them, the state mafia wants the gold in these districts." The voice further adds that Uganda has had Ebola before without lockdowns.
However, multiple organisations have confirmed that there is indeed an ongoing Ebola outbreak in Uganda.
Deadly outbreak
An outbreak of Ebola was declared in Uganda on September 20, 2022, after the country's ministry of health and the regional WHO office confirmed a case of the relatively rare Sudan strain in the country.
A 24-year-old man in Uganda's Mubende district had shown symptoms of the deadly virus and later died.
Sam Taylor, a spokesman for MSF, said the outbreak has grown significantly over the past weeks.
"Ebola was first reported in two districts, and now it has spread to five others including Uganda's capital of Kampala. The situation is a bit worrying now because our medical staff and those from Uganda's health ministry have reported community transmission," said Taylor.
On October 15, 2022, Museveni imposed a three-week lockdown in Kassanda and neighbouring Mubende districts believed to be the epicentres of the outbreak.
Infections have since been reported in Kampala.
The WHO said on October 19, 2022, that since the outbreak, 60 confirmed and 20 probable cases had been reported in the country, including 44 deaths.
Meanwhile, in a press statement released on October 26, 2022, Uganda's health ministry said there have been 109 confirmed cases and 30 deaths.
Ebola manifests as viral hemorrhagic fever and can be difficult to detect at first because fever is also a symptom of malaria.
It spreads through contact with the bodily fluids of an infected person or contaminated materials. Its main symptoms are high fever, diarrhoea, vomiting, muscle pain and internal and external bleeding.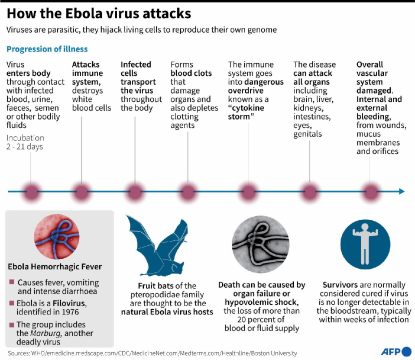 An AFP graphic on how the Ebola virus attacks
Ebola was first reported in 1976 in the Democratic Republic of Congo in a village near the Ebola River after which the disease was named. Since then, it has emerged periodically in several other African countries.
October 28, 2022 CORRECTION 28/10/22: Adds paragraphs 3-13 that were missing due to a technical error