Nancy Pelosi footage revives false January 6 claims, conspiracy theories
Social media users claim House Speaker Nancy Pelosi "staged" the January 6, 2021 attack at the US Capitol by rejecting security assistance and hiring a camera crew working with her daughter, a documentary filmmaker, to record her response as the violence played out. This is false; the attack unfolded on live television and has resulted in hundreds of criminal charges, nor did Pelosi hire a camera crew or block the deployment of extra National Guard troops to the building.
"Pelosi hiring her daughter to bring a film crew to video Jan6 proves that this day was staged and planned by the left to frame Trump and his followers," says an October 14, 2022 post on Gettr, a social media platform catering to conservatives, that was shared on Instagram.
Screenshot from Instagram taken October 18, 2022 ( Instagram)
Similar posts faulting Pelosi for the riot were shared across social media -- including by conservative activist Jack Posobiec and Donald Trump Jr, former president Donald Trump's eldest son, who claimed Pelosi denied a request from Trump for extra National Guard support.
"So Nancy Pelosi refuses Trump's request for a national guard presence on Jan 6 & simultaneously has a documentary film crew in her office where are you can hear her poorly delivered tough guy act," the younger Trump wrote. "I'm sure I'll be called conspiracy theorist for thinking this isn't a coincidence!"
In another post, he added: "Conspiracy theorists are just people capable of pattern recognition."
Screenshot from Truth Social taken October 18, 2022 ( Truth Social)
Screenshot from Twitter taken October 18, 2022
The allegations followed the ninth hearing from the House committee investigating the January 6 attack, during which the committee aired new footage of Pelosi and Senate Majority Leader Chuck Schumer phoning various government officials for help protecting the Capitol.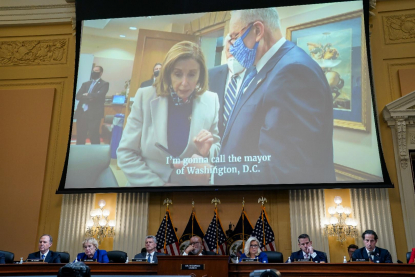 Video on screen shows Majority Leader Chuck Schumer and House Speaker Nancy Pelosi making calls from a secure location on January 6, 2021, during the US House Select Committee hearing to Investigate the January 6 Attack on the US Capitol, on Capitol Hill in Washington, DC, on October 13, 2022 ( POOL / Jabin Botsford)
The video was captured by Alexandra Pelosi, the speaker's daughter and a documentary filmmaker who has for years produced documentaries for HBO.
But Pelosi did not stage the attack, which saw a mob of Trump supporters push past barriers, fight police, smash windows and breach the building as they tried to stop the certification of the 2020 presidential election results showing Joe Biden as the winner.
The event was witnessed by the world on live television, as well as the lawmakers who were forced to leave their chambers during the tumult. Approximately 140 police officers were assaulted while protecting the Capitol. Some of those officers have testified in public hearings about the attack.
As of October 6, more than 880 people have been arrested in relation to January 6, according to the US Justice Department. More than 400 have pleaded guilty.
Filming for a documentary
Drew Hammill, Nancy Pelosi's deputy chief of staff, told AFP the claims that the speaker paid for a camera crew are "silly" and "made up."
"The Speaker did not hire her daughter," Hammill said in an email. "Alexandra was shooting video on her own on a handheld camera. There was no crew."
CNN obtained additional footage from Alexandra Pelosi and HBO, its sister network. As CNN anchor Anderson Cooper aired the video on his show hours after the October 13 hearing from the House committee, he said it was "part of a documentary that Alexandra Pelosi has been working on for years."
"She was with her mom and her family documenting what was supposed to be a peaceful transfer of political power on January 6, the kind of day that distinguishes this country from so many others, when things came unglued," Cooper said.
Contacted by AFP, Alexandra Pelosi did not answer questions, saying she could not take seriously any claim about staging the attack.
Other social media posts suggested Nancy Pelosi faked the phone calls captured in her daughter's footage because the screen on her handset appeared turned off at one point. Hammill said he believes Pelosi was using an iPhone in the moment -- the full video of which shows her placing the call before the screen goes dark. Such devices typically have a "proximity sensor," a feature built in to save battery and prevent callers from accidentally hitting buttons while talking.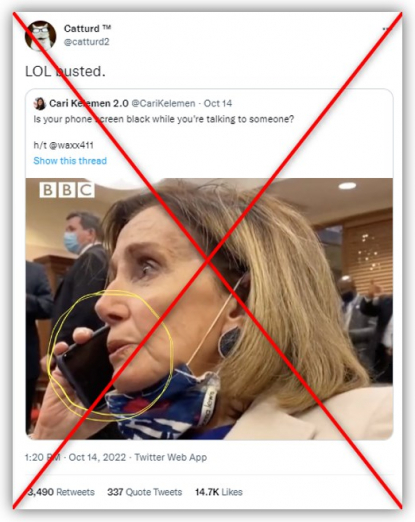 Screenshot from Twitter taken October 18, 2022 ( Twitter)
Pelosi did not reject National Guard
Regarding her personal conduct, Pelosi did not reject an order from Trump to authorize additional members of the National Guard to protect the Capitol, as Trump's allies have insisted for months. She would have been unable to do so; the DC National Guard "reports only to the President," according to its website.
"The only governmental officials who have authority to activate National Guard service members are the president of the United States, the secretary of defense, a state governor, and an adjutant general of a state," said Dwight Stirling, the founder and CEO of the Center for Law and Military Policy, a think tank.
"If the president calls the National Guard to the US Capitol, no congressional official has the unilateral authority to decline its service.," added Jane L. Campbell, president and CEO of the non-profit US Capitol Historical Society. "Even so, there is no evidence whatsoever that Speaker Pelosi attempted to."
Paul Irving, the House Sergeant at Arms at the time of the attack, testified in 2021 that he did not confer with congressional leadership about requesting further National Guard support until January 6. The recently released footage from Alexandra Pelosi shows Nancy Pelosi and Schumer speaking with congressional staff and US and state officials -- including then-Virginia governor Ralph Northam -- about sending National Guard reinforcements to the Capitol.
"We need a full National Guard component, now," Schumer is seen saying in a phone call with former Army Secretary Ryan McCarthy.
Hammill said: "The speaker was not made aware of any request for the National Guard until January 6th as the Capitol was being breached."
The false claim about Pelosi blocking National Guard assistance appears to trace back to remarks that former Acting Defense Secretary Christopher Miller recalled Trump making, disclosed when Miller spoke to a Vanity Fair reporter in the waning days of the Trump administration. Miller said Trump floated the idea before January 6 of needing 10,000 National Guard troops at the Capitol, but Miller told the reporter he regarded it as a case of the then-president being "hyperbolic." Miller also told lawmakers in May 2021 about Trump making such a comment, saying it came with "no elaboration" during a phone call lasting fewer than 30 seconds.
But in a recording of its interview with Miller that the House committee probing the attack posted to Twitter in July 2022, Miller said that as far as direct orders went, "there was no order from the president" before January 6 to direct 10,000 National Guard troops to the Capitol.
To remove any doubt: Not only did Donald Trump fail to contact his Secretary of Defense on January 6th (as shown in our hearing), Trump also failed to give any order prior to January 6 to deploy the military to protect the Capitol.

Here is Secretary Miller's testimony— pic.twitter.com/joucnUHvBB

— January 6th Committee (@January6thCmte) July 26, 2022
Both Miller and McCarthy said on other occasions that while the Department of Defense approved Washington Mayor Muriel Bowser's request for 340 unarmed members of the DC National Guard for traffic and crowd control, no other National Guard requests were made.
AFP has fact-checked other misinformation about the January 6 attack here.