Manipulated crocodile photo not from home flooded during Hurricane Ian
Social media posts claim an image shows an alligator in a flooded Florida house following Hurricane Ian's devastation of the US state. This is false; the image was manipulated using a years-old photo of a massive saltwater crocodile from Australia.
"My dawg in Florida sent me this n said he woke up and came downstairs the gator was looking at him just like this," says one September 29, 2022 Facebook post shared more than 74,000 times. "I would of died!"
Another post with more than 10,000 shares says: "Someone sent my this picture, of a gator swimming through some one living room, after Harricane Ian."
Screenshot from Facebook taken October 6, 2022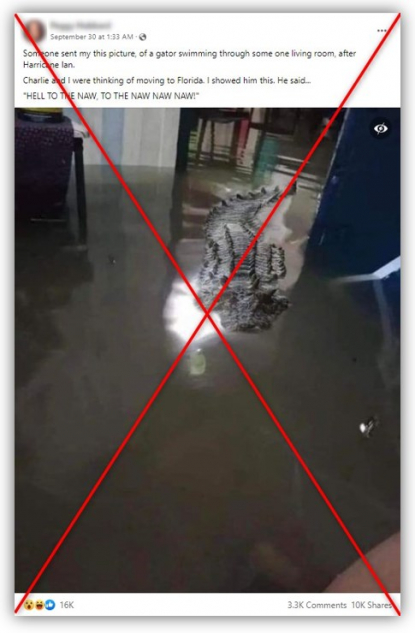 Screenshot from Facebook taken October 6, 2022
The image spread further on Instagram and Twitter, as well as in videos uploaded to TikTok.
"A Florida resident house after the storm," says the caption of one TikTok video watched more than 25,000 times.
There are approximately 1.25 million American alligators in the state of Florida, according to the nonprofit Defenders of Wildlife. The Florida Fish and Wildlife Conservation Commission, a state government agency, warned that alligators and snakes could be more visible after Hurricane Ian, and some footage appears to show alligators in floodwaters.
But the image supposedly showing an alligator inside a flooded home is not authentic.
Reverse image searches revealed the animal in the photo was lifted from a genuine picture of a saltwater crocodile in Australia -- not an American alligator -- that has been online since at least 2010. The ridges on the crocodile's back and other identifying details match those seen in the image of the flooded home.
A closely cropped version of the original picture appears in a gallery on the website for Adelaide River Cruises, a company that runs "jumping crocodile" tours in the Northern Territory of Australia.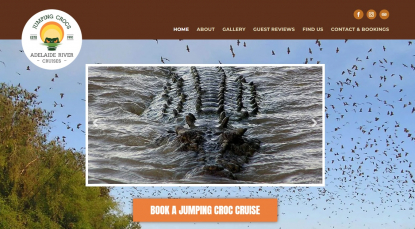 Screenshot from Adelaide River Cruises taken October 6, 2022
Adelaide River Cruises told AFP the crocodile in the photo is an 85-year-old beast named Dominator, who measures nearly 20 feet in length.
A zoomed-out version of the same photo of Dominator appeared in a 2014 Daily Mail article about a giant crocodile known as Brutus. The Daily Mail credited the photo to Adelaide River Cruises.
The saltwater crocodile -- also known as the estuarine crocodile -- is "not native to Florida," said Michael Heithaus, director of the Marine Community Ecology Lab at Florida International University in Miami. He said the image shared online appeared to be "Photoshopped."
"The photo is of a very large adult, male saltwater crocodile," added Gregory Erickson, professor of biological science at Florida State University. "It is native to estuarine habitats from eastern India, southeast Asia and northern Australia."
Another species of crocodile, the American crocodile, is found in south Florida, though it is far less prevalent than the American alligator.
The image in the posts must be "fakery," Erickson told AFP, given the type of crocodile it shows lives on the other side of the world. The reptiles are also likely "too large to pass through doorways" and end up inside someone's house, Erickson said.
The same manipulated image appeared on Reddit as early as 2020. Social media users have falsely connected it to other weather events, such as flooding in Bengaluru, India.
It is not clear where the picture of the flooded room originated.
AFP has debunked other misinformation about Hurricane Ian here.