Climate skeptics falsely deny link between global warming, hurricanes
After Hurricane Ian ravaged the US state of Florida, media pundits claimed online that there is no link between such storms and climate change. This is misleading; while hurricanes have always existed, scientists say their intensity and potential for destruction are increasing as the planet warms.
"No trend in landfalling Florida hurricanes since 1903," says a September 29, 2022 tweet from Fox News commentator Steve Milloy. "Not in frequency. Not in intensity. Not in anything. Climate is a hoax."
The post shares a link to an article from "Watts Up with That?" -- a website that has previously promoted misinformation about climate change.
Screenshot of a tweet taken October 5, 2022
The tweet was published one day after Hurricane Ian, a powerful Category 4 storm, slammed into southwest Florida. It is part of a trend in which social media posts doubt the science of climate change following major hurricanes in the US.
Similar claims circulated online here, here, and here. Liz Wheeler, a conservative commentator with more than 1.4 million followers on Facebook, said on her show that hurricanes are at an all-time low and dismissed scientific projections that such storms will continue to intensify in the future due to rising global carbon emissions.
Wheeler has repeatedly called climate change a "hoax."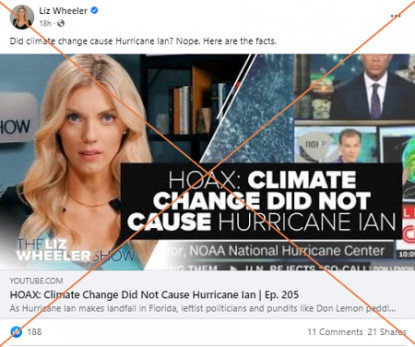 Screenshot of a Facebook post taken September 30, 2022
Authorities say at least 93 people died because of Hurricane Ian, which flattened neighborhoods on Florida's southwest coast and knocked out power for millions of people before heading toward the Carolinas.
AFP consulted several scientists and experts to investigate the link between hurricanes and climate change. While causality is hard to prove, all of them agreed global warming is making tropical storms more intense and potentially more destructive.
Hurricane formation
Hurricanes are large, intense storms that form over warm tropical waters and produce winds that extend hundreds of miles.
According to the National Oceanic and Atmospheric Administration (NOAA), Florida sees more hurricanes than any other US state.
From 1851 to 2004, 110 hurricanes were recorded in the state, including 35 storms rated Category 3 or higher. And between 1991 to 2020, an average Atlantic hurricane season had "14 named storms, seven hurricanes, and three major hurricanes," according to National Hurricane Center (NHC) data.
These tropical storms form due to multiple factors, including the rise of warm, moist air.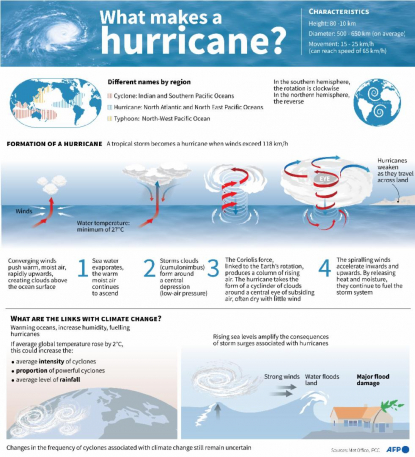 The formation of hurricanes
"The energy source of a hurricane primarily comes from the evaporation of water at the ocean surface," said Minghao Zhou, a PhD student who studies hurricanes at the University at Albany in New York.
As water vapor rises, Zhou said it "turns into cloud, rain, snow, ice and even hail, and releases heat."
He compared it to "the hot steam condensing on the lid of a kitchen boiler -- that steam is hot."
Jayantha Obeysekera, director of the Sea Level Solutions Center at Florida University International, said oceans absorb more than 90 percent of the heat caused by global warming. Hurricanes are driven by that heat.
"In the case of Ian, you saw this in and around the Gulf (of Mexico) when the storm went through rapid intensification when it went over warmer water," he said.
Intensifying storms
Measuring how greenhouse gases affect tropical storms and hurricanes in the Atlantic Ocean is difficult to gauge.
One of the challenges is that the natural variability of hurricanes interferes with the detection of human-caused factors. Scientific studies point to this oscillation as the biggest contributor to active tropical storms.
"The way hurricanes have been measured over time has not been consistent," said Lisa Alexander, a chief investigator at the Climate Change Research Centre in Australia. "Therefore trying to find a 'trend' is very challenging."
There is no strong evidence of a statistically significant trend in landfalling US hurricanes, according to NOAA.
"Of course, even a small change (that may not be yet detectible) can have a catastrophic impact with hurricanes," said Robert Tuleya, an adjunct professor with the Center for Coastal Physical Oceanography at Old Dominion University in Virginia. "On the other hand, the anthropogenic impacts on temperature, sea level rise and rainfall are now detectible and are a grave concern."
Scientific models project that, globally, the number of hurricanes that reach Category 4 or 5 will increase by about 13 percent with 2 degrees Celsius of global warming, according to data shared by NOAA in an email sent to AFP in 2021.
"Evidence continues to grow that many aspects of hurricane behavior are affected by human-caused factors, including sea-level rise, which results at least in part from greenhouse gas-induced global warming," the agency said in a 2020 report.
"The overall seasonal activity (a combination of frequency, intensity, duration) of hurricanes has increased across the globe," said Jhordanne Jones, a postdoctoral research fellow at the University Corporation of Atmospheric Research (UCAR) and Purdue University.
Suzana Camargo, a research professor at Columbia University's Lamont-Doherty Earth Observatory, also told AFP: "The current scientific status is that we expect hurricanes to become more intense, have more rainfall associated with them and lead to higher storm surge levels in the future." That is evidenced by storms such as Hurricane Harvey, she added.
Karthik Balaguru, a climate scientist at the Pacific Northwest National Laboratory (PNNL), concurred. "Studies have shown that hurricanes are intensifying more rapidly and hurricane rain rates have increased," he said.
"Coupled with rising sea levels, climate change does seem to make hurricanes more damaging."
Destructive potential
As tropical cyclones worsen, so too will the destruction of such storms.
Coastal regions are becoming more susceptible to multiple, cascading hazards due to changes in regional climate, according to a recent report from the United Nations Intergovernmental Panel on Climate Change (IPCC). Globally, an estimated 46 million people are at risk of flooding from storm surges each year.
As some social media posts claim, fatalities from cyclone-related coastal flooding are declining globally -- due to improved forecasting and evacuation, according to the IPCC. But "deaths are not the only impact of storms in coastal populations," Camargo said.
"Just see the tremendous economic and social impacts that the cities in Florida suffered in the last few days. It will take years or decades for those towns to recover," she said.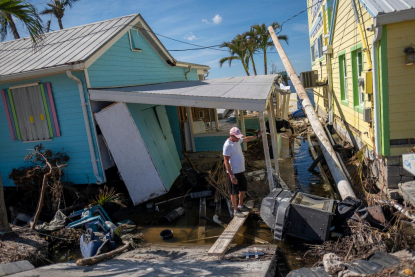 A man stands in front of his destroyed house in the aftermath of Hurricane Ian in Matlacha, Florida on October 3, 2022 ( AFP / Ricardo ARDUENGO)
According to NOAA, tropical cyclones are the most costly natural disaster in the US. While they represent less than a fifth of extreme weather events, they account for more than half of the damage attributed to weather and climate disasters since 1980.
"We should absolutely be concerned about the increasing human cost of these storms," said Meredith Welch-Devine, associate professor in climate change adaptation and extreme weather impacts at the University of Georgia. "In addition to the staggering economic costs, the disruption to people's lives and livelihoods is catastrophic."
NOAA told AFP by email that "population growth and development in US coastal areas" will affect future hurricane risks. Jones said there can be "compounding impacts" on local communities also.
"Another storm or other hazards (e.g., heat waves, tornadoes, droughts) may follow closely behind a storm in the same season," she said.
This was the case with Hurricanes Irma and Maria, which hit Puerto Rico and surrounding islands in quick succession in 2017.
Investing in the preparation and prevention of impacts from extreme weather events is less costly than recovery, according to the latest series of reports published by the IPCC.
Alexander said: "We might not get an increase in the number of tropical cyclones but the 'extremeness' of the storms we get will likely increase."
AFP has fact-checked other false and misleading claims about climate change here.