Posts spread false claims about Queen Elizabeth II's corgis
Social media posts claim a photo shows Queen Elizabeth II's corgis "returning to London" from her Balmoral residence after she died. This is false; the image was taken in 1993 and shows the queen mother's dogs.
"The Queen's companions returning to London from Balmoral. It's been reported during her final days they were constantly with her," says the caption of a September 10, 2022 Facebook post shared more than 2,000 times.
The post includes a photo that appears to show two people carrying four corgis out of an airplane.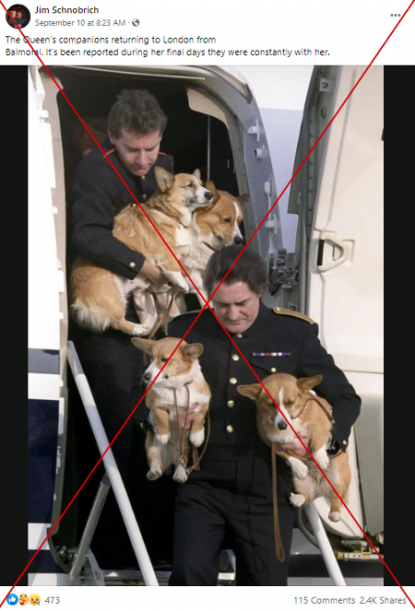 Screenshot of a Facebook post taken September 12, 2022
Queen Elizabeth II, the longest-serving monarch in British history, died on September 8 at Balmoral, her Scottish retreat in rural Aberdeenshire, aged 96. Her death sparked renewed interest in the queen's four-legged companions.
The photo seen in the post is authentic. However, it is not new -- and it does not show the queen's corgis.
A reverse Google image search indicates the picture has existed online for years, including in an April 2016 photo gallery from US magazine Good Housekeeping. The original version was taken by photographer Julian Parker in October 1993, according to Getty Images.
"The Queen Mothers Corgis Arrive Back At Heathrow Airport, After The Summer Visit To Balmoral," the caption says, referring to Queen Elizabeth II's mother and the spouse of King George VI.
Screenshot of Getty Images taken September 13, 2022
Jessica Storoschuk, a historian and reporter for the website Royal Central, confirmed to AFP that the photo "is of the Queen Mother's corgis returning from Balmoral, and not Queen Elizabeth II's dogs."
"They would be flown back after the queen mother spent her summer holiday in Scotland," she said.
Brooke Newman, a historian of modern Britain and the royal family at Virginia Commonwealth University, agreed the photo could not be recent. She said Queen Elizabeth II "had an assortment of dogs and only two 'pure' corgis, rather than the four corgis this photo suggests."
"At the time of her death, the queen had at least four dogs: two corgis, a cocker spaniel named Lissy, and a corgi-mix ( a 'dorgi') named Candy," Newman said. "The two corgis, Muick and Sandy, will be taken care of by her son, Prince Andrew." A spokesman for Prince Andrew confirmed this to AFP.
While it is unclear what will happen to the other two dogs, Newman said it is "likely they'll be divided among other family members."
Queen will not be buried with dogs
The out-of-context photo is not the only corgi-related confusion that has spread online since the queen's death.
"Cute! Queen Elizabeth's Corgis Prepare to Be Buried Alive With Her," says the headline of an article shared on Instagram and Twitter.
Some social media users expressed genuine concerns about the fate of the queen's pets. But the article stems from Reductress, a well-known satire website in the US.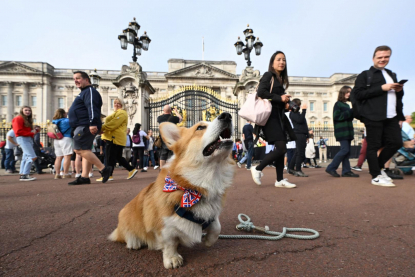 A corgi dog sits outside of Buckingham Palace in London on September 11, 2022, three days after her Majesty's death. ( AFP / SEBASTIEN BOZON)
"Unfortunately there's no salacious gossip to be found, simply devoted dogs who surely miss their owner," said Kelly Lynch, a writer for a blog called The Duchess Diary.
Historians contacted by AFP also had answers as to what happens when royal pets pass away.
According to Storoschuk, the corgis "are typically buried at Sandringham, the queen's favourite royal residence," adding that it is unlikely that her dogs would be buried in the vault at St. George's Chapel in Windsor, where her Majesty will rest.
It has been reported that Sandringham Estate has a dog graveyard, where Queen Elizabeth II used to have her deceased pets buried.
"On a sheerly practical note, the vault has limited space and as much as she loved them, they would not be given a plot there," Storoschuk said.
AFP has fact-checked other misinformation about the queen's death here and here.