Online posts share satirical TikTok about President Biden
Social media posts claim a TikTok video shows Joe Biden's granddaughter Naomi Biden saying the US president is dead, and that a twin brother has secretly taken over as commander in chief. This is false; the video was originally posted by a creator who publishes satirical content.
"My grandfather Joe Biden does have a twin and that twin is currently pretending to be Joe Biden in the White House," says the woman in the TikTok video posted on June 11, 2022. It was then shared by others perpetuating the claim as factual in September 2022.
"Naomi Biden... Says Joe Biden died 4 years ago, replaced with twin.." says a September 7, 2022 tweet.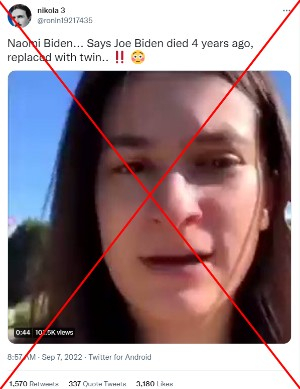 Screenshot of a tweet taken September 8, 2022
Similar claims were shared on Twitter, as well as Instagram. The video was also shared on YouTube before being removed for violating community guidelines.
The posts follow other baseless conspiratorial claims about a clone replacing Biden. AFP found no credible media reports of the president's death.
Biden is the oldest of four siblings and does not have a twin. Naomi Biden is one of the president's granddaughters, but she is not the woman in the TikTok, despite assumptions made online.
The video was originally posted to TikTok by Kass Theaz. Her account, isatandstared, is clearly labeled as satire, as is her Instagram account.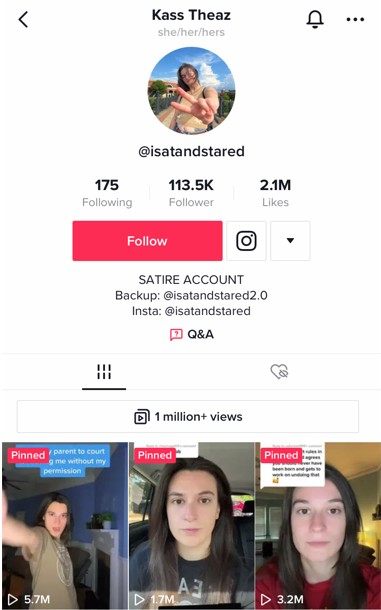 Screenshot of a TikTok account taken September 8, 2022
Her content includes a video where she asks, "Do you think it's a good idea to sue your parents for having you?" and another asserting that "birds are robots that the government made."
The posts come after the announcement that Naomi Biden will get married at the White House in November, the first wedding ceremony on the White House grounds since 1971.
AFP has debunked other inaccurate claims about the Biden family here and here.