Posts recirculate old video of prescribed burn amid California wildfires
Deadly wildfires erupted amid a heatwave in the US state of California in September 2022, but social media posts claim a video shows such blazes are intentionally set. This is false; the clip depicts a helitorch, a tool that officials use to help prevent extreme fires.
"DEW. Direct Energy Weapon. There's only so much we can share," says the caption of a September 6, 2022 Instagram post, which includes an aerial video of what appears to be fireballs shot at a forest.
Text in the clip, which was also shared on TikTok, says: "soooooo... THIS is our TRUE climate change... got it."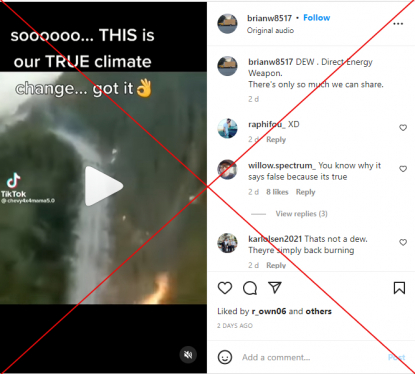 Screenshot of an Instagram post taken September 8, 2022
The posts come amid extreme heat and drought in California and neighboring states, which have strained the power grid and sparked wildfires. A live map from the University of California's Division of Agriculture and Natural Resources shows several active blazes around the state.
However, the claims are incorrect -- the clip shared online shows a prescribed burn operation, not an "energy weapon" used to start wildfires.
Footage is old
In September 2020, AFP debunked a similar version of the video shared on social media with traditional Chinese-language captions.
A Google reverse image search indicated the original video was shared in an August 2020 blog post. The clip circulated on Facebook and Instagram the same month, credited to "@joshua.payet."
View this post on Instagram
A person with access to that Instagram account said in messages sent to AFP that he had filmed the video and was a trained firefighter. But he did not reveal where the footage was shot.
"Fire agencies are not at liberty to tell you when and where an operation takes place. I can only say that 'prescribed burning,' also known as fighting fire with fire, is a technique used by many [firefighters]. And it's my video," he said.
A controlled operation
Experts told AFP the clip circulating online shows a helitorch, an ignition device attached to helicopters for prescribed burns.
Jessica Gardetto, public affairs chief for the US Bureau of Land Management, told AFP that such operations "do not start uncontrolled wildfires." In fact, officials use prescribed burns to mimic fire's natural role in the ecosystem by removing vegetation, which can help reduce the intensity and spread of wildfires while also benefiting wildlife habitats.
Kari Cobb, a public affairs officer for the US Fish and Wildlife Service, told AFP that helitorches are only operated by "skilled, certified wildland fire personnel and contractors."
Map of California showing active wildfires as of September 8 ( AFP / STAFF)
"Wildland fire personnel obtain specific qualifications to use these tools and they are only used in very prescribed environments," she said.
Christine McMorrow, a resource management communication officer at the California Department of Forestry and Fire Protection, said these operations follow a "prescribed burn plan."
"The burn plan identifies the specific weather conditions and fuel moisture conditions that must be in place before the prescribed burn is ignited," McMorrow said, adding that other factors are considered to mitigate risk and prevent wildfires.
She said prescribed burns are implemented "only if the conditions are exactly as described" in the plan.
The area burned by large wildfires in the American West has increased in recent decades -- in part due to climate change, according to research presented in the latest report from the Intergovernmental Panel on Climate Change (IPCC). The report describes prescribed burning as a natural solution.
AFP has fact-checked other false and misleading claims about climate change here.