Video does not show Marjorie Taylor Greene auditioning for 'American Idol'
A video shared thousands of times on social media claims to show a young Marjorie Taylor Greene auditioning for the televised singing competition "American Idol" under a fictitious name. This is false; the clip shows a different woman who was several years younger than the US congresswoman, whose office confirmed it is not her.
"Marjorie Taylor Greene's try out for the first season of American Idol under a stage name lmao. What a loser," says a September 4, 2022 tweet.
The post includes a video of a woman -- who resembles Greene -- as she auditions for the US reality show.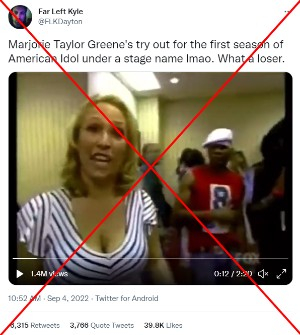 Screenshot of a tweet taken September 6, 2022
In two days, the footage racked up more than 1.4 million views on Twitter as users debated whether it showed Greene, a Republican representative from the state of Georgia and a bellicose supporter of former US president Donald Trump. Other posts making the same claim circulated on Instagram and Facebook.
But the person in the video is "not Congresswoman Greene," a spokesman for her told AFP.
The footage stems from season one of "American Idol." It shows the audition of 23-year-old Stefanie Sugarman of Alta Loma, California.
Greene hails from Milledgeville, Georgia. She was born in May 1974, making her 27 when the season was filmed in April 2002.
During the first three seasons of "American Idol," only contestants between the ages of 16 and 24 were allowed to audition, so Greene would have been ineligible. It was not until season four that producers agreed to increase the age limit to 28.
"American Idol" requires contestants to bring valid proof of age and work eligibility, such as a birth certificate, driver's license or passport, according to the show's season one requirements.
AFP previously debunked a quote misattributed to Greene here.