Old photo shows South Africans in Soweto, not Kenyan voters in 2022
A photo has been shared multiple times on Twitter and Facebook alongside a claim that it shows voters queueing in Kenya's Nyeri county on August 9, 2022. This is false: the picture is of South Africans lining up to vote in the country's first all-race elections in Soweto in 1994.
"Nyeri is so decided. Rigathi Gachagua understood the assignment from Bill, honestly Baba's final journey to Bondo is fully confirmed (sic)," reads the now-deleted Facebook post published on August 9, 2022, the same day Kenyans went to the polls to elect a new leader.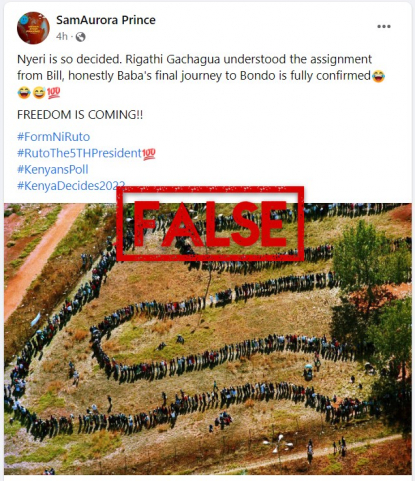 Screenshot showing the false post, taken on August 9, 2022
Nyeri is a county in the former Central Kenya province. It is the home of Rigathi Gachagua, running mate to Kenya Kwanza presidential candidate William Ruto.
Meanwhile, Bondo is the home village of Ruto's main rival, veteran politician Raila Odinga. The post implies that a defeat will force Odinga to retire to his village.
An aerial photo, published with the misleading post, shows a long, snaking line of people on a patch of open ground.
The same claim and image were also published on Twitter but the tweet has since been removed for violating the social network's rules. A previous account belonging to the same user was also suspended, according to the bio.
The photo was also shared here and here on Facebook.
The posts purport to show large numbers of supporters turning up to vote for Ruto in Nyeri, a perceived stronghold. Pre-election polls showed majority support for Ruto's alliance in the region.
Ruto, who fell out with President Uhuru Kenyatta, and Odinga were considered the main contenders in the elections.
However, the photo does not show people lining up to vote for Ruto or any Kenyan politician.
Democracy in South Africa
A reverse image search found that the image was taken outside a voting station in South Africa during the country's historic first democratic elections following the fall of apartheid.
The image shows voters queueing in Soweto, Johannesburg on April 27, 1994, and is credited to Denis Farrell of Associated Press.
Original photo showing South Africans lining up to vote in Soweto in 1994, taken on August 10, 2022, from Associated Press photo archives
Wafula Chebukati, the chairperson of Kenya's Independent Electoral and Boundaries Commission (IEBC) said in a televised briefing on August 10, 2022, that it would take time to announce the winner of the presidential election.
The IEBC has seven days to deliver the results.