Video shows cash recovered from bank van crash in Ghana, not money seized from Nigerian gangs
Terror gangs commonly referred to as bandits by Nigerian media frequently kidnap people for ransom, especially in the country's northern region where it has become an illicit but lucrative business. A TikTok video was recently posted on Facebook with a claim that the clip shows Ghanaian police confiscating ransom money being smuggled into the country by Nigerian kidnappers. But this is misleading: AFP Fact Check found that while the video was filmed in Ghana, the cash belonged to a bank and were recovered from the scene of a crash.
"Ghana police intercepted billions of naira being smuggled out of Nigeria by bandits, i guess ransom money (sic)," reads a Facebook post published on August 3, 2022, and viewed more than 1,200 times.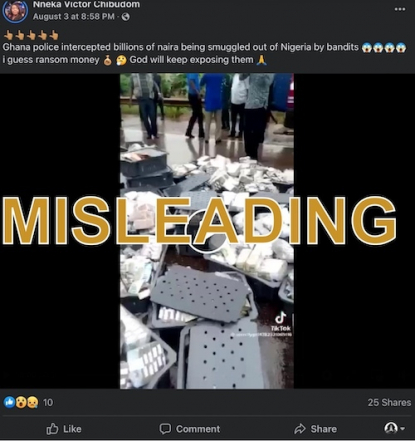 A screenshot of the misleading Facebook post, taken August 8, 2022
A TikTok video included in the post shows several crates, containing what look like bank notes, scattered on a road.A blue van and white fuel tanker are also visible in the video, as are armed security officials. 
The same video has also been viewed more than 8,000 times on Twitter, where it was retweeted in a thread about Nigeria's government approving funding for vehicles to be gifted to the Republic of Nigeria.
The tweet also claims the video shows cash confiscated from Nigerian "bandits". 
Other Facebook accounts that published the video claimed the seizure was made by police in the Republic of Benin.
However, the claims are wrong about the origin of the money.
Old video from Ghana
AFP Fact Check traced the video to a TikTok account called "usercitygh14382321069116" where it was posted on July 22, 2022, without any reference to Nigeria or bandits. 
Using the InVID-WeVerify video verification tool, we conducted reverse image searches on keyframes from the footage and found an identical video on YouTube where it was uploaded to a channel called "Chasm TV" on October 5, 2019.
The caption on YouTube explained that the video showed a collision on Techiman-Kumasi road in Ghana,  involving a Bank of Ghana bullion van and a fuel tanker, the driver of which died in the crash. 
The crash was reported by Ghanaian media (here and here), which published more images of the scene. 
"The contents (money) of the armoured van scattered all over the accident scene. The amount on board the van was GHS60,500,000," a local reporter noted in one of these  2019 reports. This was equal to about 1,250 dollars at the time.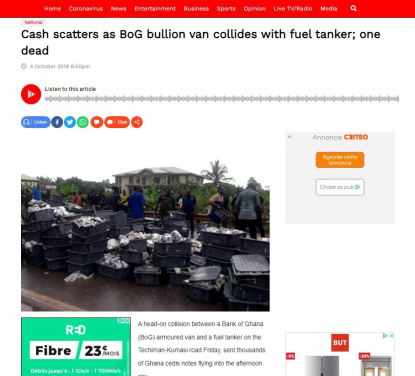 A screenshot of a 2019 news report about the crash, taken on August 9, 2022