Liability limits for vaccine makers fuel misleading claims online
Facebook posts point to legal shields granted to vaccine manufacturers to suggest people have no recourse if they suffer a rare adverse effect. This is misleading; both Canada and the United States have compensation programs in place for approved vaccines, and in some cases, pharmaceutical companies may be sued for negligence or misconduct.
"In five years you won't see a commercial saying, 'you may be entitled to..' because this is a zero liability product," says a June 22, 2022 Facebook post that includes an image of a syringe.
The same text and image have been shared on Facebook thousands of times, including here and here.
Screenshot taken on June 28, 2022 of a Facebook post
It is correct that vaccine manufacturers are granted broad legal protections in both Canada and the US. However, experts told AFP the posts inaccurately imply that vaccination is unsafe -- and that those who suffer rare adverse events following vaccination are left with no possibility of compensation.
Safety
In Canada and the US, vaccines undergo three phases of clinical trials as part of strict approval processes.
Before and after approval, vaccines are monitored for safety.
This screenshot taken June 30, 2022 shows a Health Canada graphic on vaccine development and approval
The Public Health Agency of Canada runs the Canadian Adverse Events Following Immunization Surveillance System (CAEFISS). In the US, the Centers for Disease Control and Prevention (CDC) jointly administers the Vaccine Adverse Event Reporting System (VAERS) with the Food and Drug Administration (FDA).
Health officials use reports to those systems to look for potential safety issues associated with approved vaccines. The reports are not proof that a vaccine caused the reported adverse events, but officials investigate each report and may amend their recommendations based on proven cases.
Despite rare serious side effects, public health agencies in both Canada and the US say the benefits of Covid-19 vaccines outweigh the known risks.
VISP
In 2020, the Canadian government confirmed that it had agreed to indemnify manufacturers, or protect them from legal liability, as part of contracts it signed to purchase Covid-19 vaccines.
"Let's be clear that indemnification clauses in vaccine contracts are standard," then-Procurement Minister Anita Anand told reporters at the time.
Shielding the companies from lawsuits is intended to ensure robust vaccine development and adequate supply.
To also help any patients who suffer a rare serious side effect following vaccination, Canada introduced a national no-fault compensation scheme.
The national Vaccine Injury Support Program (VISP) went into effect June 1, 2021 and covers authorized vaccines administered in Canada on or after December 8, 2020. Quebec province has had a similar program since 1985.
In both the national and Quebec programs, the claimant is not required to waive the right to pursue litigation, but individuals would be required to repay financial support received from the VISP "if a subsequent court award or settlement compensates for the same injury."
Eve Dube, who leads the Social Sciences and Humanities Network of the Canadian Immunization Research Network, said compensation programs recognize that while vaccinations benefit society broadly, they can pose small risks to otherwise healthy people, and said they meet the ethical duty to support those seriously harmed.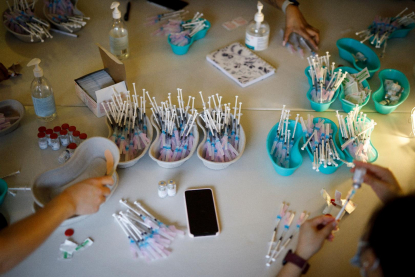 Healthcare workers from Humber River Hospital draw out doses of the Moderna Covid-19 vaccine before administering the vaccine to residents at a community housing complex in Toronto, Ontario, Canada, on March 26, 2021 ( AFP / Cole Burston)
She said the programs are meant to keep people from "having to seek compensation by themselves through costly and uncertain procedures."
Kumanan Wilson, a professor in the faculty of medicine at the University of Ottawa and a long-time advocate for a Canadian vaccine injury support program, agreed.
He said vaccine injury cases had a very low success rate, as often there is "no malfeasance" on the part of the manufacturer when rare adverse events occur. The purpose of VISP is "to compensate where possible," Wilson said, noting that the program "has a lower burden of proof than in a standard medical study."
Shawn Harmon, an adjunct professor at Dalhousie University who specializes in health policy and ethics, also said such programs offer people a chance to seek recourse with lower burdens of proof.
"The injured person need not pursue the manufacturer, distributor, administerer, etc., and demonstrate wrongdoing or negligence," he said.
As of June 1, 2022, Canada's VISP had received 774 claims. So far, the Medical Review Board has approved eight, which represent cases where "there is a probable link between the injury and the vaccine and that the injury is serious and permanent."
One of those cases involved Ross Wightman, a British Columbia man who developed Guillain-Barre Syndrome -- a rare neurological disorder -- after receiving the AstraZeneca Covid-19 vaccine in April 2021.
VICP
The US has also granted manufacturers legal immunity in cases involving vaccine injury. However, it has distinct compensation programs to help harmed individuals.
In the 1980s, Congress established the Vaccine Injury Compensation Program (VICP), funded by an excise tax of 75 cents per vaccine dose.
The program initially covered six vaccines but has since been expanded to include 16 shots -- typically those required for children to attend public schools or those routinely recommended for pregnant people. The US Health Resources and Services Administration (HRSA) maintains a detailed list of covered injuries.
One rationale for a no-fault program like the VICP is to expedite access to compensation, although there is currently a backlog of cases.
Renee Gentry, director of the Vaccine Injury Litigation Clinic at The George Washington University Law School, said that the delays are partly due to the fact that there are only eight 'special masters' who can hear cases.
"Their docket is overwhelmed and despite their extraordinary efforts to move the docket, eight special masters cannot move 4,000+ cases in a timely manner," she said.
Despite the delays, Gentry said the VICP remains "the best chance of compensation."
She said the social media posts are incorrect in describing vaccines as "a zero liability product." It is possible to "reject the finding of the vaccine court and attempt to pursue litigation against the manufacturer," but she said a US Supreme Court ruling placed significant limits on such action.
As AFP previously reported, VICP payments are not evidence that vaccines are unsafe.
HRSA data from 2006-2019 indicate four billion doses of vaccines covered by the VICP were distributed in the US. During that period, 6,365 petitions were compensated.
"This means for every one million doses of vaccine that were distributed, approximately one individual was compensated," the HRSA said in a June 2022 statistics report.
PREP Act
Covid-19 vaccines do not fall under the VICP. Instead, they are covered under the Public Readiness and Emergency Preparedness (PREP) Act, a declaration that went into effect on February 4, 2020.
The PREP Act authorized the secretary of the Department of Health and Human Services to "limit legal liability for losses relating to the administration of medical countermeasures" -- including vaccines -- during the coronavirus pandemic. The law provides broad legal immunity to healthcare providers and companies, although there is a narrow exception "for death or serious physical injury caused by 'willful misconduct.'"
Under the PREP Act, individuals who suffer rare serious adverse effects following Covid-19 vaccination may be eligible to receive compensation through the Countermeasures Injury Compensation Program (CICP), which Congress funds using emergency appropriations to the Covered Countermeasures Process Fund.
In contrast to the VICP, the CICP is an administrative process that does not allow decisions to be appealed to a judge.
As of June 1, 2022, the HRSA reported that it "has not compensated any Covid-19 countermeasures claims," although one Covid-19 vaccine claim involving an anaphylactic reaction "has been determined eligible for compensation and is pending a review of eligible expenses."
Peter Meyers, professor emeritus of law at The George Washington University School of Law, is critical of the CICP's record in compensating claims. He told AFP there are a number of ways the government can improve the program, including by compensating for pain and suffering, paying lawyers fees and paying for medical experts -- assistance that is available under the VICP.
AFP has investigated other misleading claims about vaccination here.