Image shows remains of soldiers from ancient battle unearthed in Italy, not Ethiopia
A photo has been shared on Facebook in Ethiopia alongside a claim that it shows a mass grave containing innocent civilians killed and buried by Ethiopian government forces in the Artuma Fursi district. But the claim is false: the picture shows the skeletons of soldiers who were killed during battles for control of the ancient Greek colony of Himera in 480 BC.
The post was published on Facebook on June 4, 2022, and has been shared more than 70 times.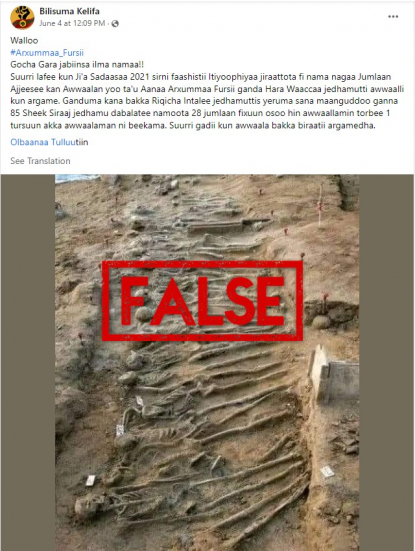 Screenshot showing the false claim, taken on June 6, 2022
Written in Afaan Oromoo, the caption translates to: "The attached photo shows a mass grave of peaceful people killed and buried by the fascist government of Ethiopia on November 2021 in Artuma Fursi district, Hara Wacha Kebele".
The 19-month Ethiopian war has sparked fears of famine in war-ravaged Tigray, where the fighting began. The conflict has since spread to the neighbouring Amhara and Afar regions.
The former includes the Oromia special zone, where the Artuma Fursi district is located.
Map showing Amhara region of Ethiopia where Artuma Fursi district is located
In April 2022, Ethiopian media reported on the discovery of mass graves by researchers from Gondar University who excavated a number of sites in the Amhara region (here, here and here).
According to the reports, the graves contained the remains of thousands of ethnic Amharas said to have been killed by the Tigray People's Liberation Front (TPLF) from 1983 to 1990.
But the image on Facebook does not show a mass grave of innocent civilians, recent or old, in Ethiopia.
Ancient Greece
A reverse image search conducted by AFP Fact Check found that the skeletons in the photo were uncovered by archaeologists at Himera, a former ancient Greek colony in Sicily, Italy.
Reports (here and here) about the archaeological dig, which took place from 2008 to 2011, reveal that the remains belonged to soldiers killed during the Battle of Himera between the Greeks and the Carthaginians in 480 BC, and a second conflict in 409 BC.
Centuries earlier, around 800 BC, the Greeks began what is today referred to as the first mass colonisation of Sicily and southern peninsular Italy. Within a few years, the Greeks assimilated the native Sicanians, Sicels and Elymians, challenging the Carthaginians for the control of Sicily.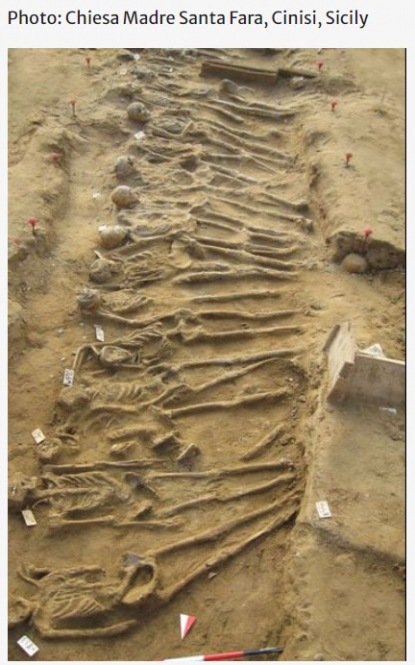 Screenshot showing the skeletons from the website of the University of Georgia