Police rubbish reports about 'Muslim youth' attacking Hindu holy man in India
A video is circulating in social media posts in Hindu-majority India that claim it shows a Muslim man harassing a Hindu holy man and chopping off his hair. However, police said the attacker was Hindu, not Muslim, and that the incident was not religiously motivated. Local media reported that the accused was drunk and attacked the man following an altercation. 
"A Muslim youth chopped off a Hindu holy man's hair and beard in public," reads a Hindi-language tweet shared on May 28, 2022.
"This pig should be arrested as soon as possible. Forward this post as much as possible. He should be punished according to the strict Hindu laws @ChouhanShivraj, please take note."
The 16-second video, which has garnered more than 22,000 views, shows a young man slapping an older man and cutting his hair.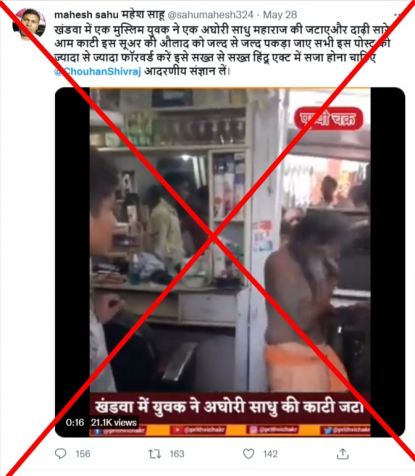 A screenshot of the misleading post captured on June 5, 2022
The Twitter handle @ChouhanShivraj belongs to Shivraj Singh Chouhan, chief minister of Madhya Pradesh and a politician from the ruling Bharatiya Janata Party. 
The footage was also shared with a similar claim in Hindi here and here, and in English here . 
However, police said the attacker was Hindu, not Muslim.
'Drunken attack'
A keyword search on Google found reports which said the incident happened in Khandwa district in Madhya Pradesh on May 22, 2022.
Indian news channel Mirrow Now reported that the man who was harassed in the footage was a sadhu -- a Hindu holy man -- who begged for a living.
The report also includes a picture that corresponds with scenes in the misleading video. 
Mirror Now said the man was attacked following an altercation with a man named Praveen Gaur, who was allegedly drunk at that time.
Gaur is a family name belonging to the upper caste Kshatriya community. The Gaurs claim descent from Surya, the Hindu sun god.
Below is a screenshot of the Mirror Now report: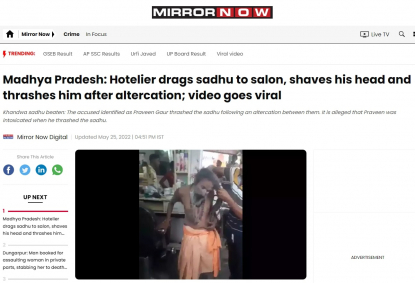 Screenshot of the Mirror Now report, captured on June 5, 2022
Indian news channel NDTV also reported that the man was a sadhu and beggar, and said police were looking for him in order to register a formal complaint.
Police officer in charge PR Dawar said the attack was not religiously motivated.
"The accused is from the Hindu community and we registered a case against him, there is no angle related to the religion," he told AFP.
Muslims have been a constant target of misinformation campaigns in India, where they have complained of growing hostility since the Hindu-nationalist Bharatiya Janata Party came to power in 2014, as reported by AFP here and here. 
AFP has previously debunked swathes of false claims targeting Muslims in India, for example here and here.