Pfizer does not have a monkeypox vaccine
Social media posts say the US Food and Drug Administration (FDA) recently approved a new monkeypox vaccine from Pfizer. This is false; the only vaccine for the prevention of monkeypox was approved by the FDA in 2019, and Pfizer does not manufacture it.
"Just to be clear... One case of 'MonkeyPox' was found in Massachusetts this week... In less than 48 hours the United States Government had purchased 13 million MonkeyPox vaccines for $119 million. A day later, Pfizer received FDA approval for a New Monkey Pox Vaccine.." says text in a screenshot posted May 22, 2022 on Instagram.
"Anyone else getting tired of the government constantly trying to kill us?" said Mindy Robinson, a Libertarian candidate running for the Nevada State Assembly in this year's US midterm elections, in the caption of her post.
Screenshot of an Instagram post taken on June 2, 2022
Similar claims were also shared on Facebook and Gettr -- a social media network popular among conservatives -- here, here and here.
The World Health Organization (WHO) said in early June that, since May, more than 550 monkeypox cases had been confirmed in 30 countries outside the West and Central African nations where it is endemic. The disease is related to but less severe than smallpox.
Monkeypox spreads via animal bites or direct contact with an infected animal's blood, meat or bodily fluids. Initial symptoms, including high fever, quickly develop into a chickenpox-like rash on the hands and face.
The US Centers for Disease Control and Prevention (CDC) is tracking cases of monkeypox in countries where it is not normally reported, including the US. But the posts shared on social media contain false information, according to both the FDA and Pfizer.
FDA approved new monkeypox drug formulation
A keyword search on CrowdTangle, a social media monitoring tool, helped AFP identify the potential origin of the claims.
On May 20, 2022, the Gateway Pundit, a website that has previously spread misinformation, published an article about a "Pfizer-linked" treatment for monkeypox recently approved by the FDA. The story was then picked up by other blogs and posts on social media here, here and here.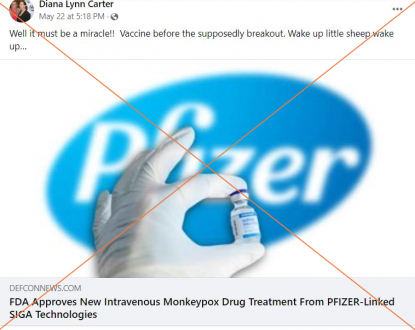 Screenshot of a Facebook post taken on June 2, 2022
However, the drug mentioned in the article, called TPOXX, is not a vaccine. It is also not new -- the FDA approved an oral formulation of TPOXX for the treatment of smallpox in 2018.
On May 18, 2022, the manufacturer of TPOXX, pharmaceutical firm SIGA, obtained the FDA's approval for an intravenous formulation of the drug for patients who are unable to swallow a capsule. SIGA owns the rights for the sale of TPOXX in the US, not Pfizer.
"The IV formulation of TPOXX was cited in the recent US president's budget request as being used to treat a patient in the U.S. with monkeypox," SIGA's press release says.
Monkeypox vaccine not new, not produced by Pfizer
Other sources -- including satirical website The Babylon Bee -- have also shared claims about a recently approved monkeypox vaccine from Pfizer.
Abby Capobianco, a press officer at the FDA, told AFP: "Jynneos is licensed by FDA for the prevention of smallpox and monkeypox disease in adults 18 years of age and older determined to be at high risk for smallpox or monkeypox disease. The FDA granted the approval of Jynneos to Bavarian Nordic A/S."
Jynneos is not a new vaccine; the FDA approved it in September 2019. On May 18, 2022, pharmaceutical company Bavarian Nordic announced that the US government had placed a $119 million order for freeze-dried Jynneos doses.
As of early June, the shot was the only FDA-approved vaccine for the prevention of monkeypox. Keanna Ghazvini, senior associate of global media relations at Pfizer, told AFP the company does not have a monkeypox vaccine.
"We currently do not have an active program in development on monkeypox," she added.
AFP Fact Check has debunked other claims on social media about monkeypox.