Amber alert did not go off during Depp v Heard trial
The judge presiding over the Johnny Depp and Amber Heard defamation trial said mobile phone alarms that interrupted the closing arguments were an "Amber alert" warning of a child in danger, a claim that immediately started trending on Twitter. But the ringing was actually a warning sent by the National Weather Service in Fairfax County, Virginia where the trial was held.
"An AMBER alert interrupted Amber Heard's closing argument — you can't make this stuff up. Think the universe is on point with that one," a May 27, 2022 tweet says, posted at 11:58 AM (EST) -- attaching a clip of Heard's lawyer, Benjamin Rottenborn, delivering a closing statement on behalf of his client, that same day, during a defamation trial initiated by Depp, which has been streaming live across platforms since the trial began on April 11.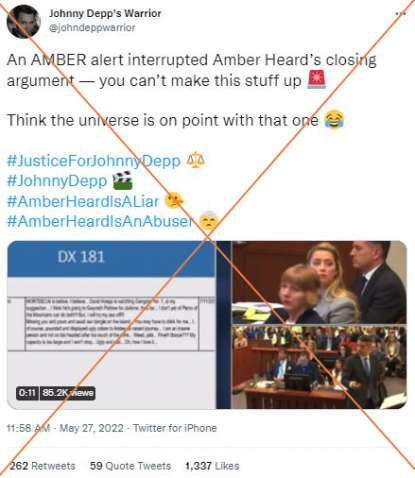 A screenshot of a tweet taken on May 27, 2022
Other tweets also shared the claim -- here and here -- hoping for the child to be safe -- as an "Amber alert" is triggered as part of an emergency system when a minor appears to be endangered, missing, or has been abducted.
The claim quickly gained in popularity on social media, and "Amber alert" was seen trending on Twitter at the conclusion of a high-profile trial which has sparked a wave of vitriol on social media, much of it directed at Heard. 
But both the Fairfax County Department of Public Affairs and the National Weather Service confirmed to AFP that the alarms that were heard in court were weather alerts for the area. 
Closing arguments were held May 27 in the defamation case between Depp and his ex-wife after a six-week trial featuring blistering accusations of domestic abuse by both sides.
A few minutes before noon, repetitive ring tones were heard going off in the courtroom.
Judge Penney Azcarate, who is in charge of proceedings in the case, is then heard saying: "There appears to be an Amber alert. But I think we're okay. People are getting it, I guess, on their phone."
But the judge misspoke. There was no "Amber alert" in the area on May 27. 
Instead, the alarms heard on the live stream and in court were sent by the National Weather Service.
"A Tornado Warning was issued from our office for part of Fairfax County at 11:54 A.M. today," Chris Strong, the primary liaison for the Baltimore/Washington area office of the National Weather Service, told AFP. 
Crystal Santos, public information officer for the Fairfax County Department of Public Affairs, also confirmed to AFP: "The weather alert was a Wireless Emergency Alert from the National Weather Service. This was not an Amber alert, which comes from the State Police for things such as missing persons."
The seven-person jury retired later that day to consider a verdict in the high-profile case.
Depp and Heard each spent days on the witness stand during the heavily covered trial, attended by hundreds of fans of the "Pirates of the Caribbean" star and accompanied by a popular #JusticeForJohnnyDepp campaign on social media.
AFP Fact Check has previously debunked other claims about the blockbuster trial, here and here.