Digital artwork of Mumbai cloud formation misleads social media users
An image of ominous-looking clouds was shared thousands of times globally on social media alongside a claim it was shot in India's financial capital of Mumbai. Some social media users appeared to believe the image shows a genuine cloud formation, but it is actually a digital artwork created using a stock photo of Mumbai.
"A unique formation of Mammatus clouds over Mumbai, India," reads the caption alongside the image shared here by an India-based Facebook user.
Mammatus formations are distinct series of bulges or pouches emerging from the base of a cloud.
They are associated with clouds that bring thunderstorms.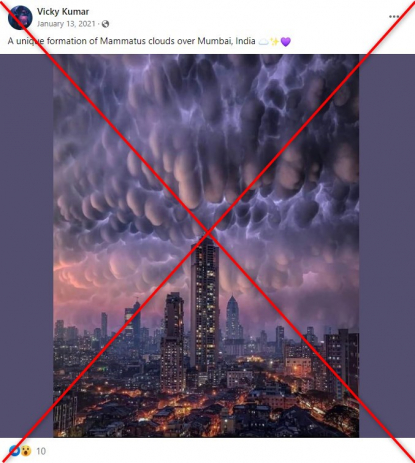 Screenshot of the misleading post taken on May 26, 2022
The image was shared alongside a similar claim more than 18,000 times on Facebook here -- and circulated worldwide in social posts from the Philippines, Myanmar, and Sri Lanka.
Several social media users appeared to believe the image shows a genuine cloud formation.
"Beautiful!! I didn't know there was that kind of cloud.." one wrote.
"Wow, never have seen anything like that before," another said.
Meteorologist Eric Zernich shared a similar Facebook post here but credited the image to US-based visual artist Brent Savnore.
In response to the posts, Savnore told AFP the image is "not real".
"This image is digital art and was created by me using stock photography," he said.
Savnore originally posted the artwork on August 29, 2020 on Facebook alongside the caption, "The finest souls are those who gulped pain and avoided making others taste it."
The post was geotagged in Mumbai, India.
Savnore's Facebook and Instagram accounts contain similar digitally edited images of cloud formations.
A reverse search on TinEye found the unedited photo on the Canadian stock images website iStock here.
The iStock caption reads: "Moonrise over south-central Mumbai -- the financial capital of India -- showing a glittering metropolis with a reputation of a city that never sleeps with dwellings of lower middle class in the foreground and newer towers where elite stay in the far background."
The photo was uploaded to the site on April 7, 2020.
Below is a screenshot comparison of the image in the misleading posts (left) and the iStock photo (right):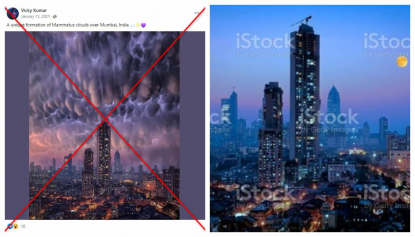 AFP previously debunked online posts that passed off Savnore's digital artwork as a real storm in South Carolina.