US has not proposed giving WHO control of health care
Former US congresswoman Michele Bachmann claimed in an interview that the Biden administration has proposed giving the World Health Organization (WHO) control over national health care decisions. This is false; the US proposed amendments to WHO regulations aimed at beefing up the agency's response to future disease outbreaks, but the global agency, US officials and experts say the proposals would not give the WHO power to override domestic policies.
"The Biden administration is bringing amendments that would propose all nations of the Earth cede their sovereignty over national health care decisions to the WHO," Bachmann, a Republican who ran for president in 2012, said in a video posted May 10, 2022 on Facebook. "What this would mean, Steve, is that the WHO would have decision-making authority to intervene into United States government policy -- and any nation of the world -- without our permission."
The clip, which has been viewed more than 158,000 times, stems from an episode of "War Room," a podcast and online show hosted by Steve Bannon, who previously served as chief White House strategist for former US president Donald Trump.
Screenshot of a Facebook video taken on May 23, 2022
Similar claims have circulated on Facebook, Instagram and Twitter as the WHO convened for its May 22-28 World Health Assembly in Geneva, its first fully in-person annual assembly since the Covid-19 pandemic began.
Many of the claims, which have also been promoted by conservative US politicians and pundits, take aim at long-running discussions on a potential global agreement to strengthen international pandemic response.
A vote on such an accord is not on the agenda of this year's convening of the World Health Assembly, the WHO's decision-making body, in Geneva. What WHO member states will discuss are a set of potential amendments to the International Health Regulations (IHR), a "legally binding agreement of 196 countries to build the capability to detect and report potential public health emergencies worldwide," according to the US Centers for Disease Control and Prevention.
Amendments
The WHO launched a public process to revamp the IHR, following criticism of the public health agency's handling of the Covid-19 pandemic.
The US has proposed amendments, but none of the suggestions resemble anything like what Bachmann claimed.
An April 2022 filing from the US includes a slew of recommendations for overhauling the WHO's regulations. Among them are calls for more assistance for member states to detect and report public health emergencies, as well as faster WHO notification and investigation of outbreaks.
A spokesperson for the US State Department told AFP in an emailed statement that the amendments "would in no way diminish American sovereignty or the ability of American citizens to make their own health care decisions."
The spokesperson added: "These proposed amendments are designed to clarify early-warning triggers for international response to pandemic threats, promote rapid information sharing by countries and WHO, and improve WHO decision-making around determinations of public health emergencies."
Delegates gather on the opening day of 75th World Health Assembly of the World Health Organization (WHO) in Geneva on May 22, 2022 ( AFP / Jean-Guy Python)
Polly Price, a professor of law and global health at Emory University, agreed: "The US has not proposed ceding its sovereignty over national health care decisions to the WHO."
She said that any future treaty would not be able to "have that effect without major changes to UN and WHO structure, and I haven't seen anyone propose this, let alone the US."
Asked about her claims in the video, Bachmann said the US proposal would allow the WHO to override member states' health care policies.
"Presidents Trump and Biden exercised broad powers based upon emergency declarations," said Bachmann, now dean of the Robertson School of Government at Regent University. "The same will be true in practice by UN member states because the states willingly are choosing to relinquish individual nation-state decision making over health care to the WHO as a global body of states."
But the WHO said that assertion is incorrect.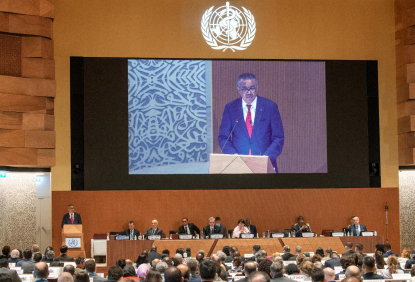 World Health Organisation (WHO) Director-General Tedros Adhanom Ghebreyesus delivers a speech on the opening day of 75th World Health Assembly of the World Health Organisation (WHO) in Geneva on May 22, 2022 ( AFP / JEAN-GUY PYTHON)
"There is no proposal to cede a country's sovereignty to WHO," an agency spokesman said in an emailed statement. "The World Health Organization has 194 Member States, or countries, and it is these countries who make sovereign decisions."
Under the US-proposed amendments to the IHR, a country affected by an outbreak would have 48 hours to accept or decline assistance offered by the WHO. If the country declines, the agency must "immediately share" information about the exchange with other member states.
Beyond naming and shaming, the proposal does not include a mechanism for enforcing the WHO's recommendations.
Lawrence Gostin, director of the O'Neill Institute for National and Global Health Law at Georgetown University, explained that WHO recommendations are "non-binding" in a May 19, 2022 Twitter thread. "While states are legally bound to report dangerous outbreaks, there is no enforcement mechanism & countries often do not comply. China, for example, failed to promptly report Covid outbreaks, which conservatives in the US roundly condemned," he wrote.
Gostin told AFP the proposed amendments would not affect American health care policy, either.
"The IHR doesn't even cover domestic health care decisions. Patients and their doctors aren't affected at all, and the US has full rights to make its own health policies," Gostin said in an email. "Additionally, the future pandemic treaty would not affect US health care decisions. No one has ever proposed that."
May 25, 2022 This article was updated to add comments from the US State Department.