US vice president and Tanzanian president did not tweet congratulations to Kenyan politician
After Kenyan presidential hopeful Raila Odinga picked former justice minister Martha Karua as his running mate, online posts appeared claiming that US Vice President Kamala Harris and Tanzanian President Samia Suluhu congratulated her on Twitter. But the claims are false; the purported tweets sharing congratulations were fabricated, and neither Harris nor Suluhu have commented on Karua's candidacy for deputy president.
On May 16, 2022, a Facebook post shared a screenshot of a purported tweet from Harris congratulating Karua, with a purported response from Karua thanking her. 
"Deputy president Martha Karua receiving congratulations messages all over the world," reads the post's caption.
A screenshot of the false Facebook post, taken on May 18, 2022
Another screenshot of a tweet purportedly from Suluhu congratulating Karua was also shared on Facebook.
The purported tweet, in Swahili, reads: "I am happy to receive news that Martha Karua has been selected to be the running mate of Raila Odinga in Kenya's presidential race. Karua is recognized on the continent for her remarkable work and she will be resourceful to the nation of Kenya. I pray that Kenyans use this opportunity for change".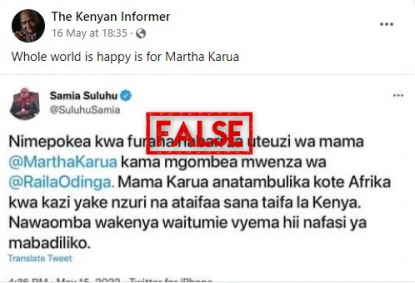 A screenshot of the false Facebook post, taken on May 18, 2022
The same claim was shared on Facebook (here, here and here), on Twitter and in WhatsApp groups.
Many appeared to believe the screenshots were genuine, including Karua, who in a television interview said she had seen the congratulatory tweet from Suluhu, Tanzania's first woman president.
Meanwhile, Kenyan governor Kivutha Kibwana echoed the claims during a TV interview but was corrected by the host.
Manipulated tweets
A scan of Harris and Suluhu's official Twitter accounts found  no messages congratulating Karua. 
Furthermore, AFP Fact Check found discrepancies between Harris' two official Twitter accounts and the screenshot purporting to show her tweet.
The account in the screenshot uses the name "Vice President Harris Kamala" while her two verified accounts identify her as "Vice President Kamala Harris" and "Kamala Harris".
Screenshots of the official Kamala Harris accounts (top right and left) and the fabricated tweet (bottom), taken on May 18, 2022
Meanwhile, the office of the Tanzanian president dismissed the congratulatory tweet attributed to her as "fake".
Kenya's elections
As Kenya prepares to elect its fifth president on August 9, 2022, candidates eyeing the top seat have started announcing their running mates.
This year's presidential contest is shaping up to be a two-horse race between Deputy President William Ruto and 77-year-old Odinga, a former prime minister.
Odinga is taking a fifth shot at the presidency and his choice of a woman deputy president has been celebrated by several leaders and groups including UN Women Kenya, who described it as "a remarkable moment for gender equality & women's political leadership in Kenya".
If Odinga wins, Karua would become the country's first woman deputy president. 
May 20, 2022 Article updated to correct that this is Odinga's fifth challenge for the presidency, not his fourth as initially reported