Fauci remark on flu vaccination does not negate Covid-19 advice
Facebook posts claim top US infectious diseases expert Anthony Fauci contradicted himself by advising all Americans to get vaccinated against Covid-19, citing a years-old clip in which the doctor says a person who recovered from influenza need not receive a flu shot. But Covid-19 and the flu are distinct diseases, Fauci's advice in the 2004 video was specific to one person, and scientists are still researching the durability of natural immunity following Covid-19 infection.
An April 1, 2022 Facebook post features a video of Fox News host Tucker Carlson saying: "Fauci admitted... that he in fact had been lying about natural immunity in order to convince Americans to take the vaccine."
The clip transitions to an old C-SPAN video in which Fauci says that if a patient "really has the flu, she definitely doesn't need a flu vaccine... The most potent vaccination is getting infected yourself."
Carlson says of the clip: "Back in 2004, when there weren't Pfizer vaccines to sell for Covid, Tony Fauci was completely honest about natural immunity because he wasn't being paid not to be."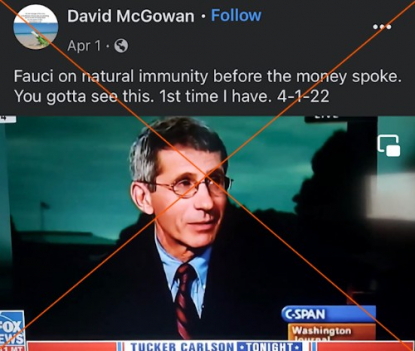 Screenshot of a Facebook post taken on April 27, 2022
More examples of the claim -- part of a flood of inaccurate claims about Fauci and Covid-19 that have spread online during the pandemic -- appeared on Facebook here and here.
Fauci, the director of the National Institute of Allergy and Infectious Diseases (NIAID), spoke about the flu and flu vaccines in a video published on C-SPAN on October 11, 2004.
When a woman called in to seek advice after a bout with the flu and mentioned she reacted badly to previous shots, Fauci said she did not need a vaccine. "If she got the flu for 14 days, she's as protected as anyone can be," he said.
NIAID said that the doctor's advice does not conflict with current recommendations to get vaccinated against Covid-19.
"The statements that Dr Fauci made in this 2004 video were made in the context of a discussion about influenza, not Covid-19. Dr Fauci continues to support CDC recommendations for Covid-19 vaccination, which state that people should get a Covid-19 vaccine even if they have already had Covid-19," the institute told AFP on April 26, 2022.
It noted that during the 2004-2005 flu season, when the video was filmed, a shortage of influenza vaccines prompted the US Centers for Disease Control and Prevention (CDC) to prioritize at-risk populations to receive the shot first.
Fauci's 2004 advice was specific to the caller, who had already been sick, and in general, the doctor supports current CDC guidance that everyone six months of age or older should get a flu shot every year, even those who already caught the illness that season, NIAID said.
Concerning natural protection from Covid-19, it said: "While immunity from prior infection appears to have some protective benefits, the level and durability of protection afforded by prior infection remain unclear. Vaccination is a safe and effective way to protect against severe Covid-19."
Computational epidemiologist Maimuna Majumder of Boston Children's Hospital and Harvard Medical School, dismissed the equation of the flu and Covid-19.
"False parallels between flu and Covid-19 are dangerous," she said. "Though both diseases are respiratory in nature, Covid-19 is undeniably deadlier than flu. I think it's important to keep this in mind, especially when attempting to dispel misinformation that treats these two diseases as comparable."
Majumder also explained that vaccination is a far safer alternative to taking your chances with infection. "The likelihood of hospitalization or death due to infection -- especially severe infection -- is much, much higher than the likelihood of these outcomes due to vaccination," she said.
And she noted that while infection-conferred immunity exists for both Covid-19 and the flu, protection may vary across individuals who have gotten sick with either disease.
"If the goal is to protect ourselves from hospitalization and death, the safest way to go about doing this is to get vaccinated," Majumder said.
University of California San Francisco School of Medicine infectious diseases professor Monica Gandhi agreed, saying: "Vaccination is a much safer way to acquire immunity to a pathogen than the infection itself."
Citing this study, she said: "Although natural immunity was strongly protective against the Delta variant, recovery does not seem to be as protective against Omicron, which requires vaccination after immunity to restore greater protection from infection."
The flu does not confer lasting immunity, and research indicates that Covid-19 infection does not either. Gandhi noted that seasonal flu vaccines need to be changed every year depending on strains circulating, and that Covid-19 booster shots are required to fend off future illness.
"Dr Fauci encouraging Americans to get vaccinated on Covid-19 does not represent a flip flop from his older statements in the video, which was for a different virus and a different kind of vaccine," she said.