Elon Musk did not reinstate Donald Trump on Twitter
Facebook posts have shared an apparent tweet from Donald Trump thanking Elon Musk for allowing him to rejoin Twitter. But the claim is false; the company confirmed that the former US president was banned at the time of the purported tweet, and his account remains inactive.
An April 14, 2022 Facebook post shares the alleged tweet, which says: "It's good to be back, Thanks Elon!" The handle @realDonaldTrump -- the former president's personal account, which was permanently suspended following the attack on the US Capitol on January 6, 2021 -- appears at the top of the image, along with a blue check mark, an indicator of Twitter verification.
The supposed tweet is dated April 15, 2022, but a Facebook post sharing the image was published the day before, a tell-tale sign that the content is not authentic.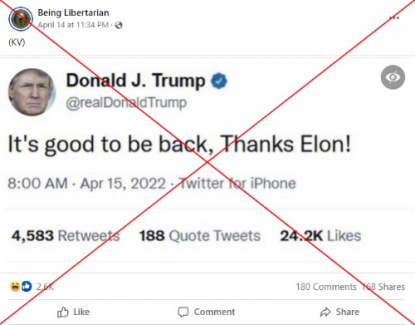 Screenshot of a Facebook post taken on April 19, 2022
More examples of the claim appeared on Facebook here and here.
A spokesperson for Twitter told AFP that Trump's old account was not usable on both April 14 and 15, when the social media posts claimed the tweet originated, and that he remains banned from the platform.
"The account referenced has been and remains permanently suspended," the spokesperson said.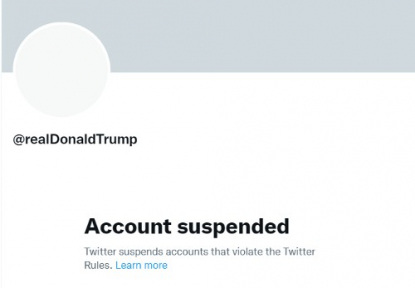 Screenshot of a Twitter account taken on April 20, 2022
Musk, who is CEO at Tesla and SpaceX, shocked the tech world on April 14 when he made an unsolicited $43 billion bid to buy out Twitter, citing the promotion of freedom of speech on the platform as a key motive for what he called his "best and final offer." He is considered the world's richest person with an estimated net worth of $219 billion.
It was announced on April 25 that Musk and Twitter had reached a $44 billion deal.
The publicly traded firm will now become a private company owned by Musk, who negotiated a purchase price of $54.20 per share, Twitter said, seemingly ending one saga and perhaps opening another.
The decision by Twitter and Facebook to suspend Trump on their platforms has been criticized by some as a muzzle on free speech, for which Musk has been outspoken.
Twitter cited the risk of "further incitement of violence" when imposing a permanent ban on Trump after the storming of the Capitol. By contrast, the restriction from Facebook is effective for two years from the date of the initial suspension on January 7, 2021.
The deadly January 6 attack followed a speech by the then outgoing president where he forcefully told supporters that Democrat Joe Biden's 2020 election victory was due to widespread fraud, a claim rejected by dozens of courts and state election officials.
Musk -- who at the time of his initial offer held only nine percent of Twitter -- rapidly assembled the required financing to buy the company.
At the time of a deal being reached, Musk had not publicly moved to restore Trump's account, as the false tweet claimed 10 days earlier.
Trump, who launched his own social media app, told Americano Media in an interview aired on April 13, 2022 that he "probably wouldn't have any interest" in returning to Twitter if Musk reinstated his account.
AFP has previously debunked a claim that Trump was reinstated on social media here.
April 25, 2022 This article was updated after Elon Musk and Twitter announced a $44 billion deal.