Article claiming US to ban meat is April Fools' joke
An article claims that US regulators plan to ban "real meat." But it was posted on April 1 and includes a notice at the end that it was intended as an April Fools' joke, a disclaimer that is not immediately visible when the article is shared on social media.
"Evidence that The Great Reset is rapidly approaching can be seen in the recent decision by the U.S. Food and Drug Administration to ban real meat, and if history is any indication, the same decision may be taken by other countries as well. The U.S. ban is slated to take effect on April 1, 2024," says an April 9, 2022 Facebook post.
It quotes from the text of an article published on April 1 by a Canadian website with documented links to Russian disinformation operations.
Screenshot of a Facebook post taken on April 11, 2022
The article referred to billionaire Bill Gates's initiatives to tackle climate change and to "The Great Reset" -- a slogan of the World Economic Forum that has become a byword for a conspiracy theory of world domination by global elites.
But it ends: "This is an April Fool's article and the FDA ban on real meat is a fictional scenario. A primary reason why we post April Fool's articles is to act as warnings. We want to wake people up to see what could happen if actions aren't taken to protect and preserve freedom."
On April 1 and for several days after, Facebook posts and tweets quoted the article, with many linking to a version reproduced by another website.
Despite some users pointing out in comments that it was an April Fools' spoof, the posts continue to elicit angry emojis and other reactions indicating the text was believed to be true.
Screenshot of a Facebook post taken on April 11, 2022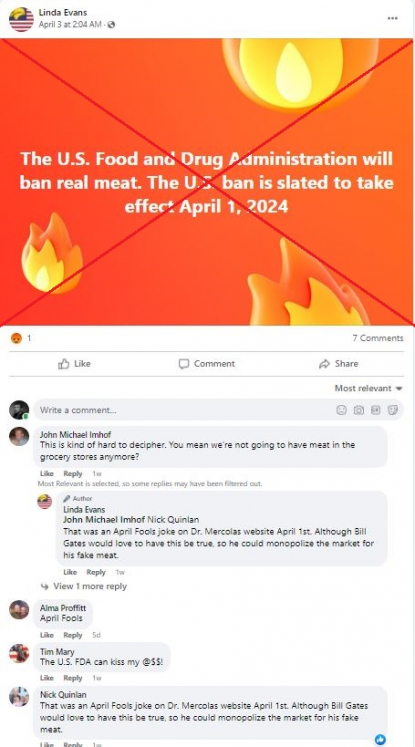 Screenshot of a Facebook post taken on April 11, 2022
The original article's author Joseph Mercola, who shared the claim on Instagram, has been identified as a prolific source of coronavirus misinformation and as one of the leading pushers of anti-vaccine content.
No ban on meat
The article said the US Food and Drug Administration (FDA) had decided to ban meat in order to reduce methane emissions from farm cattle. It went on to consider the health implications of artificial meat.
The FDA did not respond to a request for comment by the time of publication, but a search of its website did not reveal an announcement on a meat ban.
In 2020, it announced an agreement along with the US Department of Agriculture's Food Safety and Inspection Service "to help ensure that foods comprising or containing cultured animal cells entering the US market are safe and properly labeled."
AFP Fact Check has previously debunked claims that President Joe Biden's climate plan would require Americans to cut red meat consumption by 90 percent.
His goal is to cut 2005 greenhouse gas emissions in half by 2030. The climate impact of emissions of methane -- a potent greenhouse gas -- is well documented. The United Nations Environment Programme says farm livestock account for a third of human-made methane emissions. It says plant-based diets and changes to livestock farming are among ways of reducing its impact.
The United Nations Intergovernmental Panel on Climate Change says greenhouse gas emissions must be sharply reduced in the coming years to avoid the worst impacts of global warming. It detailed measures for doing so in a major report in March 2022.