Altered photo shows Ukrainian president holding jersey with swastika
Social media posts feature a picture of Ukrainian President Volodymyr Zelensky holding a soccer jersey that has a swastika in place of a number. But AFP found that the posts used a digitally manipulated image superimposing the Nazi symbol on a photo taken from the leader's Instagram account.
"Say it... You stand with.....???" says the text accompanying a photo of Zelensky appearing to hold a jersey featuring a swastika, implying his support of Nazi ideology. It was shared in a March 6, 2022 Facebook post and also circulated on Twitter after Russia invaded Ukraine on February 24.
Screenshot of a Facebook post taken on March 17, 2022
The posts followed a late February 2022 accusation by Russian President Vladimir Putin that Ukraine's leadership includes neo-Nazis. Zelensky, who is Jewish, has repudiated those accusations and recounted how his own family members were killed by Nazi occupiers during World War II.
But the photo featuring the swastika was digitally altered, an AFP examination with the InVid-WeVerify tool showed.
It detected pixel discrepancies in areas around the swastika, which usually indicates that the image was tampered with.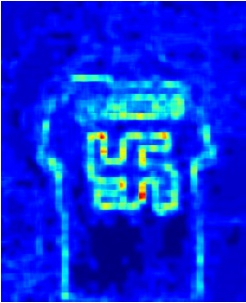 Screenshot shows the InVid-WeVerify image analysis
A reverse image search showed that the same picture -- without the swastika -- appeared in June 2021 news articles about demands by the Union of European Football Associations (UEFA) that Ukraine change its jersey for the Euro 2020 competition because it featured a "political" slogan criticized by Russia.
AFP reported at the time that the UEFA said the slogan "Glory to the Heroes," a rallying cry during the 2014 anti-Russia protests in Ukraine, was "clearly political in nature."
The jersey also featured a map of Ukraine including the Crimean peninsula, which was annexed by Russia in 2014.
A search of Zelensky's Instagram profile revealed that the image was posted on June 8, 2021, with the number 95 is on the jersey, not the Nazi symbol. The photo is captioned: "The new jersey of Ukraine's national football team is special. It can shock. It features several important symbols that unite Ukrainians from Luhansk to Uzhgorod, from Chernihiv to Sevastopol. Our country is one and indivisible. Crimea is Ukraine."
Screenshot taken on March 17, 2022 of Volodymyr Zelensky's official Instagram account
AFP Fact Check has examined multiple false and misleading claims circulating on social media since the beginning of the Ukraine conflict.